Malaysian minister vows to go ahead "with plans to open a church embracing homosexuals, bisexuals and transsexuals, despite government protests."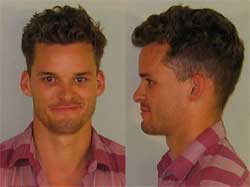 Jake Gyllenhaal's basketball buddy Austin Nichols busted for DUI.

Researchers: 250,000 to 350,000 cases of breast and colon cancer a year could be prevented worldwide if people spent 10 or 15 minutes in the sun each day. "The mechanism by which vitamin D works is only partly understood, but it slows the rate of cancer cells' growth. It is made when the body is exposed to the sun's UVB rays."

"Brilliant" gay white rappers break out at the New York Fringe Festival.

Lust, Caution: Ang Lee's latest slapped with NC-17 rating.

After bloody brawl with husband, Amy Winehouse text messages Perez Hilton.

Ted Haggard in "cash for Heaven" offer.

Marine sergeant found guilty of "improperly touching" four junior Marines: "The club was crowded that night, and the four Marines — who then were lance corporals — said at first they thought Agosto was joking when he sidled up to them throughout the night and placed his hand on their thighs as they stood together. But they said he repeated his advances, convincing them he was making homosexual overtures. One said Agosto leaned over and whispered in his ear: 'You know you want to.'"

Human Rights Watch calls on Uganda to repeal sodomy laws.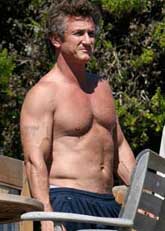 Sean Penn: shirtless activist.

New study on late Medieval French "brotherment" may help historical arguments for gay marriage: "For example, in late medieval France, the term affrèrement — roughly translated as brotherment — was used to refer to a certain type of legal contract, which also existed elsewhere in Mediterranean Europe. These documents provided the foundation for non-nuclear households of many types and shared many characteristics with marriage contracts, as legal writers at the time were well aware, according to Tulchin. The new 'brothers' pledged to live together sharing 'un pain, un vin, et une bourse' — one bread, one wine, and one purse. As Tulchin notes, 'The model for these household arrangements is that of two or more brothers who have inherited the family home on an equal basis from their parents and who will continue to live together, just as they did when they were children.' But at the same time, "the affrèrement was not only for brothers," since many other people, including relatives and non-relatives, used it."

Five former leaders of "ex-gay" ministries in Australia condemn the practice. Melbourne Exodus leader: "There was not one person that I met or worked with who, in any genuine way, achieved the fundamental transformation from homosexual to heterosexual. The stress of attempting to change their sexual orientation, however, increased the risk of suicide, and absolutely led to erosion of self-esteem and increased levels of depression and self-deprecation at a very deep level."