Microsoft to buy Blackberry? LoopRumors reports: "In the wake of Apple's iPhone success, Microsoft may be making a bid to buy Blackberry maker Research in Motion (RIM). Microsoft has seen a lot of competition to its Windows mobile operating system in recent months as well as rumors that Google is working on its own mobile operating system. Neither Microsoft or RIM were immediately available for comment. Shares of RIMM were up 3% on this rumor."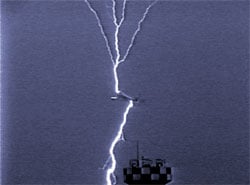 Check out this electrifying footage of a lightning bolt striking an airliner taking off from Osaka.

NBC cutting off its foot to spite its face? Network plans to pull television shows from iTunes over pricing disagreements and DRM. Some say they may have made an announcement to get a better bargaining position with Apple.

Is this what your iPhone will be wearing next year? "Sharp — one of Apple's iPhone panel providers — just unveiled their newest 3.5-inch, 320 x 480 pixel resolution multi-touch panel which does what its predecessor did in just half the thickness. The new 1-mm depth was achieved by integrating the optical sensor into each pixel while incorporating scanning functionality for fingerprint authentication or barcode and business card scanning."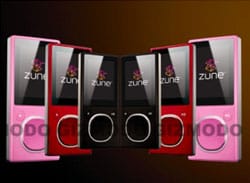 The first shots of the next generation Zune have arrived. The first gen models, which included one dubbed the "shiny brown turd" by many, have been replaced with red, pink, and black versions in 80gb and 4 and 8gb flash models. However, Apple may blow the pants off this announcement during their September 5 "special event" at which new iPods are expected to arrive: "Two music industry executives said Jobs intended to announce a vastly improved version of the iPod with a larger video screen, a touch-screen interface and other features similar to Apple's iPhone, an iPod that doubles as a cellphone."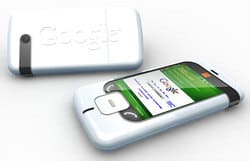 The Google Phone is on its way, some say by the first quarter of 2008: "Unlike Apple, which positioned itself as hardware-focused and consumer-friendly with the iPhone, Google is diving much deeper into the world of telecommunications and many wonder if it plans to become a wireless carrier just like Verizon or AT&T. Google has been lobbying the U.S. government for changes in wireless policy. While it did not achieve as much as it wanted in the planning for the upcoming 700 Mhz spectrum auction in January, it did push for the fact that consumers in the U.S. can buy any phone and use it on any carrier in the future. Google is also expected to bid on the spectrum, pledging upwards of $5 billion in an auction that may net the government between $10 billion and $12 billion. What Google plans to do with the spectrum, and how it might fit in with Gphone plans, is the focus of media and Internet speculation." (mock-up by Engadget)

Groups of hackers around the world this week demonstrated the ability to unlock the iPhone from AT&T's network, as quickly as AT&T assembled legal teams to stop them. VNUNet claims that their actions may be within the law: "An exemption to the Digital Millennium Copyright Act (DMCA) in the US means that it may be legal to unlock an iPhone and use it on networks other than AT&T's."

Light up your liquor! Gizmodo reports that lighting designers have hit the barroom, illuminating liquor bottles to eerie effect: "This clever idea involves a battery-operated LED, nestled within a cork that takes its place atop a bottle of the colorful beverage of your choice. Notice the whimsical effect when a group of those bottles are all lit up from above like that."

NASA says they have found no evidence that astronauts were drunk before a flight on the Space Shuttle or any other spacecraft following allegations that surfaced last month. Said Bryan O'Connor, director of safety and mission assurance at NASA headquarters: "Within the scope and limitations of this review, I was not able to verify any case where an astronaut spaceflight crew member was impaired on launch day or any case where any NASA manager disregarded recommendations by either a flight surgeon or another crew member that an astronaut crew member not be allowed to fly on the shuttle or the Soyuz. Should such a situation present itself in the future, my review makes me confident that there are reasonable safeguards in place to prevent an impaired crewmember from ever boarding a spacecraft. Insane stalkers, however, were a different story.

Nokia has no qualms about lifting the iPhone's functionality pixel for pixel. Engadget notes that this device is out from the Finnish phonemaker next year. Said Nokia's Executive VP & General Manager of Multimedia Anssi Vanjoki: "If there is something good in the world then we copy with pride."

Game news: Activision confirms that ENemy Territory: Quake Wars will be hitting shelves for the PC in October. Nintendo announced that sales of its Wii console have hit 1 million units in the UK in record time, and game developer THQ would be platforming its popular Worms game to the Wii format. FOX announced that its first release for the Xbox Live Video Marketplace would be Family Guy.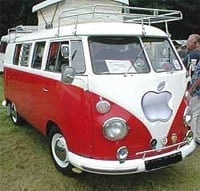 Apple and Volkswagen may be partnering on an "iCar". Financial Times Deutschland reported that Steve Jobs met with Volkswagen CEO Martin Winterkorn to discuss a possible collaboration on future models. MyiTablet reports: "The paper then goes on to highlight the fact that VW has plans for a new under-$10k subcompact, almost begging us to believe that it's going to be a full-on mixture of VW and Apple DNA. Far more likely, however, is that the same sort of iPhone and iPod integration that stablemate Audi has introduced will be filtered down into Volkswagen's more mainstream range."

Microsoft announced that it would be releasing a package of fixes for the Windows Vista OS in early 2008: "The service pack fixes some common problems that cause computers to crash or freeze, Microsoft said, including compatibility problems with some newer graphics cards, external monitors and printer drivers. Microsoft said it also fixed some problems users had with putting their PCs to sleep and waking them up again. The company said SP1 is also expected to improve battery performance, increase the speed of copying files and help Internet Explorer run faster on Vista."
S P O N S O R …
Ladies and gentlemen, please join me in welcoming back Newegg.com as Towletech sponsor, and keep reaching for the stars. (Mike)
Advertise here with ModurbanMedia > Select.