Yes, the Mark Foley investigation is still ongoing in the state of Florida.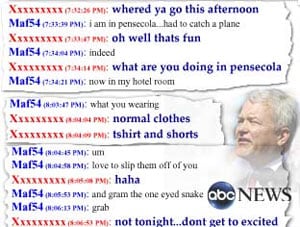 The Florida Department of Law Enforcement would reportedly like to wrap up the investigation but has been stymied because neither Foley nor the House of Representatives will allow investigators access to Foley's congressional computers. The House claims only Foley can release them because they're considered "congressional work papers."
That would seem to be a bit of a roadblock to anyone attempting to uncover wrongdoing regarding electronic communications.
FDLE spokesperson Heather Smith told the AP: "We have requested to review federally owned computers that Mr. Foley used during his time as a representative, but the U.S. House of Representatives … cited case law restrictions that prohibited them from releasing those computers."
The AP adds: "Florida investigators were working with the FBI and Foley's attorney, David Roth, to try to reach an agreement, Smith said. At the investigation's conclusion, its findings will be forwarded to prosecutors to determine if charges are warranted. Under Florida law, the age of consent is 18. A crime may have been committed if Foley is simply found to have seduced or attempted to seduce a minor using lewd or explicit language. Roth declined to comment Wednesday, citing the continuing investigation. He has previously maintained his client's innocence and said Foley never had inappropriate sexual contact with minors."
Foley, Police at Odds Over Computers [ap via sf gate]