Two New Hampshire men are facing hate crime charges related to a July attack on John Lavasser, who says they assaulted him while he was in his car waiting for his partner, Ron Sayres, to arrive.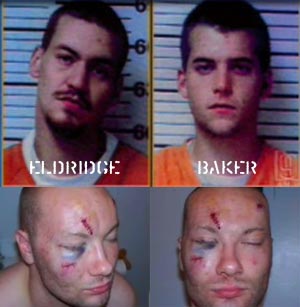 Lavasser told news station WMUR that the two men, Sheane Eldritch, 23, and Thomas Baker, 20, "came after [him] from each side" and, after asking him if he was waiting for his partner, assaulted him, causing the injuries you see in the photo.
Coos County Assistant Attorney Keith Clouatre told the station, "As they were walking away, witnesses heard them bragging about it, saying, 'I'm gonna kill that fag.'"
Lavasser and Sayres tell the station that after the attack they were prepared to move out of Coleman, New Hampshire, where the attack occurred, but decided that doing so would be admitting defeat.
New Hampshire has a statute that extends imprisonment if criminals are "substantially motivated to commit the crime because of hostility towards the victim's religion, race, creed, [or] sexual orientation" so Eldritch and Baker may face extra jail time.
Prosecutors Say Man Beaten For Being Gay [wmur]
Related
Senate Passes Hate Crimes Bill by Vote of 60-39 [tr]