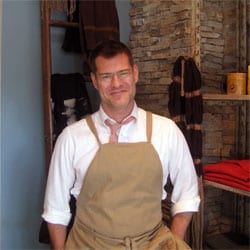 Fashion designer John Bartlett has opened his first boutique. The Shophound takes us to the store, which opened over the weekend in Manhattan's West Village:
"Relishing his new role as retailer, the designer plans to make the most of his interaction with customers in developing his collection. 'I want guys to be able to wear my clothes,' he tells us as we discuss how so many designer lines are difficult for American men to fit into. 'It's OK for young guys,' he says of the current vogue for superslim cuts, but while Bartlett's own line is hardly baggy, he now has a vested interest in fitting the customers who come through his door as well as his own more athletic than attenuated physique."
Bartlett's wares include jeans with a leather patch that will be branded after purchase, tartan trousers, black motorcycle and denim jackets, gray flannel pants, patchwork blazers, and a few non-clothing items such as "witty ceramic home accessories" and scented candles.
As for Bartlett himself, he tells the Shophound, "I plan to be here a lot."
John Bartlett Sets Up Shop: A Shophound Interview [the shophound]
John Bartlett [official site]