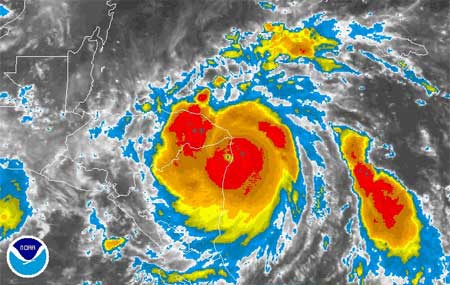 Hurricane Felix has come ashore in Nicaragua with brutal 160 mph winds. For the first time since 1886, two Category 5 hurricanes have made landfall in the same season. Hurricane Dean pounded Mexico's Yucatan peninsula as a Category 5 early in the morning on August 21st.
The Associated Press reports on Felix: "The storm hit near the swampy Nicaragua-Honduras border, home to thousands of stranded Miskito Indians dependent on canoes to make their way to safety…Some 350 people were evacuated along Nicaragua's coast. Many other Miskito Indians refused to leave low-lying areas and head to shelters set up in schools, and the newspaper La Prensa reported that 20 fishermen were missing. Communication to the area was cut off, and it was impossible to find out what was happening as the storm's winds began hitting the remote, swampy area, much of it reachable only by canoe. The Nicaraguan government sent in some soldiers before the storm hit, but was preparing to send in more help once the hurricane passed."
Hopefully those in harm's way made it to higher ground.