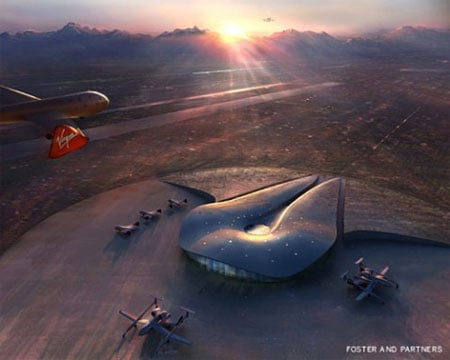 Plans for the world's first tourist spaceport were released this week by Foster + Partners. Spaceport America will be host to Virgin Galactic, Richard Branson's fleet of spaceships that plan to start shuttling rich tourists to the edge of the space as soon as 2009. Deposits are already being accepted for its $200,000 tickets. The spaceport is located in Upham, New Mexico. According to Business Week, "The New Mexico Space Authority, a state agency created to develop commercial space travel, will provide funding for the $31 million project. It expects to put the facility out for construction bids in the first half of 2008 and to break ground that same year."

As noted in a post earlier in the week, Apple unveiled its latest line of iPods. It was also revealed that in July, iPhones sold like hotcakes: "The two models of the iPhone on the market sold more than Research in Motion's Blackberry series, the entire Palm portfolio and any individual smartphone model from Motorola, Nokia or Samsung." A $200 price drop on the device outraged early adopters who had paid a premium for the device, and Steve Jobs soon came forward with the offer of a $100 "make good" certificate of credit…to the Apple store.

And here's the world's most expensive iPod.

Ever wonder what it looked like inside a hard drive? Now you know.

Delicious, the popular social bookmarking site, unveiled a preview of version 2.0 this week, by invitation only. Techcrunch has screenshots of the updated service, and reports a "substantially different interface" than the one users currently operate in.

How the Google phone could rewrite the rules.

11 Neuroscientists talk about training your brain to stop its decline as you age.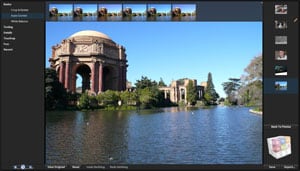 Adobe offered a sneak-peek of Photoshop Express, which John Nack says is "a new member of the Photoshop family that's meant to make Adobe imaging technology immediately accessible way to large numbers of people." The new service should allow for easy online optimization and enhancement of photos without a standalone application. (screenshot)

It's a lamp that blooms!

Google discussed a hidden facet in its popular program Google Earth this week: a flight simulator that uses its vault of satellite imagery and allows users to pilot one of two planes over a variety of landscapes. Techcrunch reports: "To access the hidden feature, open Google Earth and hit Command+Option+A (note it must be capital A) or Ctrl+Alt+A if you're using a Windows Machine. The Google Earth Flight Simulator comes with two aircraft options, a F16 Viper and the more manageable SR22 4 seater. Players have the option of commencing the game from their current location in Google Earth or can pick from a list of pre-determined runways. Control instructions can be found here."
S P O N S O R …
Newegg.com is the sponsor of the Towletech we know and love. (Mike)
Advertise here with ModurbanMedia > Select.