Since Larry Craig's resignation from the U.S. Senate on Saturday he has apparently hired a lawyer and is reconsidering his decision to step down, according to the Associated Press.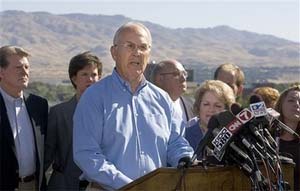 Said Craig's spokesman Sidney Smith: "It's not such a foregone conclusion anymore, that the only thing he could do was resign. We're still preparing as if Senator Craig will resign Sept. 30, but the outcome of the legal case in Minnesota and the ethics investigation will have an impact on whether we're able to stay in the fight—and stay in the Senate."
It was unclear whether the Idaho senator would return to the nation's capital: "Dan Whiting in Washington, said Tuesday that Craig was expected to spend the week in Idaho as the Senate votes on spending bills for veterans and other programs. Whiting did not rule out Craig's returning to Washington before the end of the month."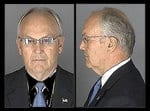 Craig's children, Michael Craig and Shae Howell, said on Tuesday that they questioned their father "explicitly" about the Minneapolis incident.
Said Michael Craig: "We've known him our whole life. He has been so trustworthy to us, so honest to us, that we believe him. Maybe it wasn't sexual intercourse, but were these sexual actions? Were there sexual feelings? All these terrible things that were said in the media, we asked all those tough questions. I don't want to have an answer based on a legality or technicality or semantics of the words. We wanted to know exactly what happened and after speaking to our dad, we know exactly what happened."
UPDATES:
–GOP strategists "neither delighted nor amused" by Craig's new announcement…"defies reality"…
—Finds support in Arlen Specter: "The more people take a look at the situation, there may well be second thoughts. [If Craig had not pleaded guilty in August to a reduced charge and instead demanded a trial], "I believe he would have been exonerated."