Idaho Senator Larry Craig will not be present at the hearing today at which his attorney will petition to overturn his guilty plea for disorderly conduct stemming from his arrest in a Minneapolis airport men's room in June.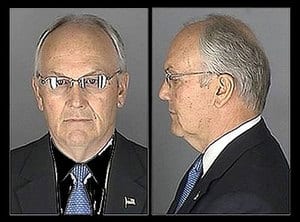 "I have been advised not to," Craig told news media.
An attorney for the Metropolitan Airports Commission filed a 41-page brief earlier this week arguing that the Senator should not be allowed to withdraw the plea "because the basis for his request is not injustice but rather his 'displeasure at the outcome'."
CNN adds: " In an affidavit filed Monday in Hennepin County District Court, prosecutor Christopher Renz also said he advised Craig to consult an attorney before entering a written guilty plea — advice the senator did not take. Lawyer and media legal analyst Ron Rosenbaum told the Idaho Statesman newspaper that Craig's status as a senator works against him in court. 'The guy is a U.S. senator,' Rosenbaum told the newspaper. 'The judge can assume that he had some knowledge of the legal system and how laws work' when he pleaded guilty…Rosenbaum told the Statesman, if the guilty plea is overturned, Craig could faces the charges in court again. 'I'm not sure Craig would be happy with that,' the paper quoted him as saying."
Craig's hearing takes place at 2:30 pm EST today.