FOX pans Alan Ball film Nothing is Private for its "graphic sexual, mental and physical child abuse": "If Ball, who regularly toyed with conventions in his TV show and in American Beauty, thought all this would somehow illuminate the tragedy of child abuse, he was wrong. Too much is shown and too many lines are crossed for Nothing Is Private ever to be released by a major studio or distribution company to theatres. If nothing else, the endless 'ick' factor involving nearly every character is a permanent obstacle."

80's cult classic TRON to get sequel: "The original, about a computer programmer thrust into a computer and forced to fight in games he helped create, is remembered for its sci-fi gladiator-style battles and groundbreaking special effects. It was the first movie to use computer-generated images instead of models and other optical effects in conjunction with live action. The arcade game based on the movie was so popular that it earned more than the movie."

In a victory for Evangelical Christians, a judge in Northern Ireland has struck down portions of the UK's Sexual Orientation Regulations protecting LGB people from harassment when accessing goods and services.

Mitt Romney assumes the anti-gay position. And the accompanying article: "Mr. Romney bristles when he is accused of shifting on the issue, as he has on abortion, pointing out that he has been consistent in personally opposing both marriage and civil unions between people of the same sex. On the stump, he usually makes a point of saying that he opposes discrimination against gays. But he refrains from details when pressed as to how he might fight it."

Jennifer Hudson signs on to Sex and the City movie as Carrie Bradshaw's assistant.

Gay referee Nigel Owens takes place officiating at Rugby World Cup.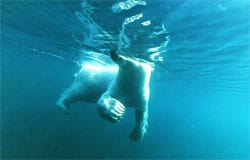 STUDY: Most Polar Bears gone in 50 years.

Issue of rainbow flags remains unresolved in small Nova Scotia community of Truro. Background.

At $24.2 million domestic, Michael Moore's Sicko is now third-highest grossing documentary of all time, behind Fahrenheit 9/11 and March of the Penguins.

Indian construction worker in Dubai gets 25 years for bludgeoning lover to death with a rock: "The Dubai Court of Appeal increased the 15 years initial sentence of 23-year-old Indian named only as B.A to 25 years, which is life imprisonment here. The appeal's court also awarded him an additional month in jail for consuming liquor. He will be deported after serving his term. The Public Prosecution charged the Indian with consuming liquor and murdering his compatriot, identified as S.D. According to a Yemeni policeman, who questioned B.A., the accused was having a homosexual affair with the deceased. An Indian witness said he saw B.A. committing the crime when he woke up after hearing a commotion in the room at a construction site."