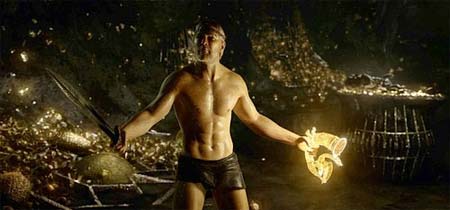 Beowulf, the Robert Zemeckis' CG-animated film coming to theaters in December, has already been written up for the extensive amounts of CG-flesh in trailers that have been posted.
Screenwriter Roger Avary talks to Entertainment Weekly about where he got his inspiration for the title character and demonstrates his gift for metaphor.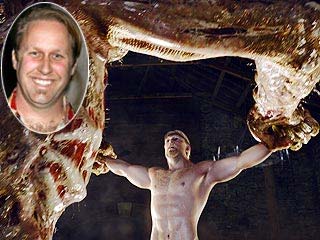 EW: "Were there any concerns that the MPAA might have problems with you depicting a naked Beowulf?"
Roger Avary: "When I wrote it, I envisaged the character of Den in the Heavy Metal comic. Den was a character by Richard Corben, who was easily one of my favorite artists. [Den] was this muscular guy with a gigantic schlong. He would always go into battle and beat the hell out of people, totally in the buff. He never wore clothes. That kind of stuck with me. I love it when somebody takes something like a fight — or really any event — and twists it to the point where you're naked doing it. Also, there was a proud tradition of berserkers going into battle naked. It just shows how fearless you are. I don't know about you, but if someone came at me, like, 'Aaaaargh!' naked, I'd be, 'Whoa!' Had we done it [like] Richard Corben's Den, the MPAA would have had huge, huge problems. As it is, I think the movie is going to have to achieve a more tempered rating. I don't think that we're going to be [seeing] Beowulf's gigantic, you know, baby's-arm-holding-an-apple-sized schlong onscreen. However, because this is performance-capture, it's not inconceivable that, at some point down the road, they simply re-render, widen-out shots, move things out of the way and put together a hard-R or NC-17 version of the movie."
Read the full interview here.