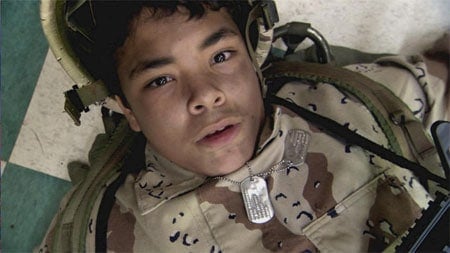 Ed Radtke's film Speed of Life won the newly-created Queer Lion award at the Venice Film Festival.
Speed of Life is about a young teen growing up in working-class Brooklyn, who steals videocameras from tourists, and after selling the cameras, becomes immersed in a fantasy life brought forth by the tapes he has saved in the process.
The Michael Caine/Jude Law film Sleuth won a "special mention" in the category. Below, director Ed Radtke talks to Cinema Italiano about the film.
More about the festival's winners here. The awards included a surprise win for Ang Lee with his NC-17-rated film Lust, Caution, and a best actor win for Brad Pitt in The Assassination of Jesse James by the Coward Robert Ford and a best actress win for Cate Blanchett in Todd Haynes' Bob Dylan pic I'm Not There.
Film Experience also has a report from the festival.