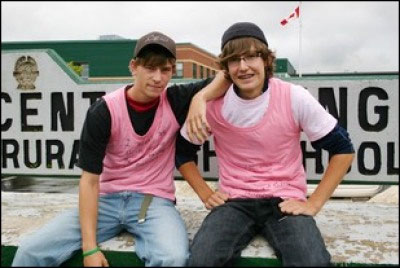 When a freshman student showed up for the first day of class at Central Kings Rural High School in Cambridge, Nova Scotia wearing a pink shirt, he was set upon by a group of up to 10 students who called him gay and threatened to assault him.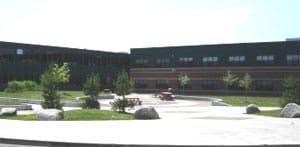 The next day the bullies didn't have a chance to repeat their actions. David Shepherd and Travis Price (above), two seniors who had witnessed the incident, showed up to school with 75 pink tank tops for students to wear as well as a pink basketball and material to make pink headbands and armbands, according to the Chronicle Herald. Shepard and Price handed the shirts out before the beginning of class.
Said Price: "The bullies got angry. One guy was throwing chairs (in the cafeteria). We're glad we got the response we wanted. [The bullies] "keep giving us dirty looks, but we know we have the support of the whole student body. Kids don't need this in their lives, worrying about what to wear to school. That should be the last thing on their minds."
According to the Herald, "[Shepard] said one of the bullies angrily asked him whether he knew pink on a male was a symbol of homosexuality. He told the bully that didn't matter to him and shouldn't to anyone. 'Something like the colour of your shirt or pants, that's ridiculous,' he said. 'Our intention was to stand up for this kid so he doesn't get picked on…It's my last year. I've stood around too long and I wanted to do something.'"
According to Shepard, when the bullied kid saw the group of kids in the pink shirts, "he was all smiles. It was like a big weight had been lifted off his shoulder."
Are you listening GLSEN? Give these kids a medal!
'I've Stood Around Too Long' [chronicle herald]