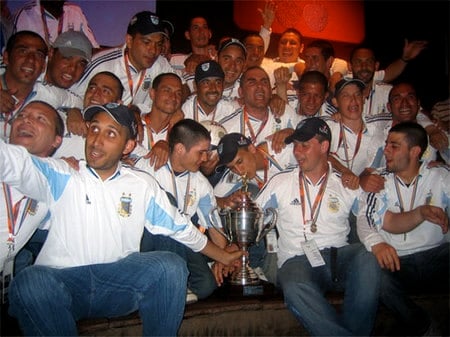 Our Towleroad correspondent in Buenos Aires, Dan Fastenberg, sent us these shots of Argentinian club Los Dogos, following their win of the gay football world cup on Saturday. Los Dogos beat British title-holders Stonewall 1-0 in he first gay World Cup to be held in Latin America.
Tomas Gomez, the current IGLFA president, told Fastenberg that it made perfect sense for the event to be held in Buenos Aires, the first country in its region to legalize civil unions: "There's enough advancement here, and it is noteworthy."
Wrote Fastenberg for the Buenos Aires Herald: "With the first Latin American breakthrough, which was supported by the Buenos Aires city government through its sports department, Buenos Aires now joins a lineup of cities like Atlanta, Copenhagen, and Fort Lauderdale to have hosted the annual Gay World Cup, which has been organized in some form since 1987. 2007 also marks the 25th anniversary of the inaugural Gay Games in San Francisco, out of which the Gay World Cup originally grew.
Said Dogos Captain Mauro Cambone upon his acceptance of the team's trophy: "I'd like to thank God, and all of my team for all the hard work, and the support of the Buenos Aires city government for everything. This was such a thrilling win, and it was great to show Buenos Aires that there's more to us than our nightlife."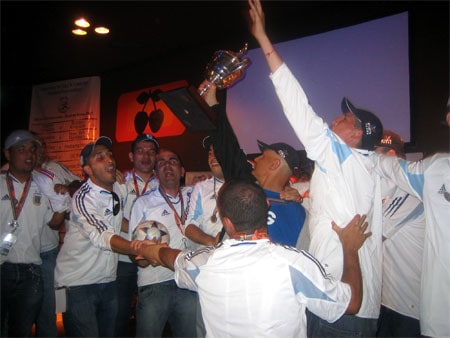 The tournament was not without its activism either. At one of the matches, a banner was unfurled calling for civil unions in all of Argentina, not just Buenos Aires itself.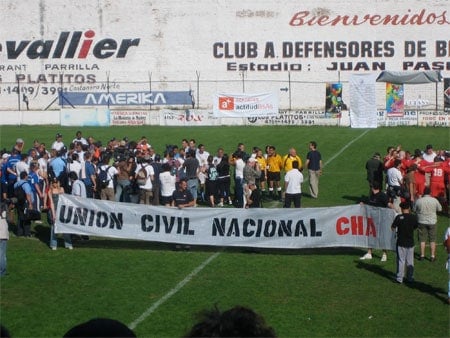 The AFP reports: "The two teams were among 28 squads from Europe, the Americas and Australia that participated in the 10th gay football world championship aimed at highlighting the fight against homophobia and discrimination."
(Images: Dan Fastenberg)