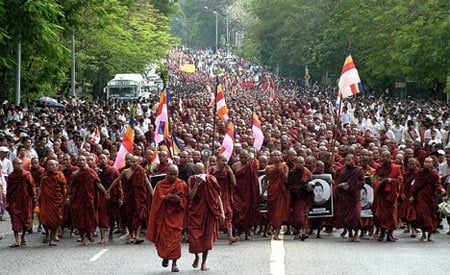 Bad as it was last week, the military government's crackdown on protesters and monks in the country appears to get more tragic by the hour:
"Reports from exiles along the frontier confirmed that hundreds of monks had simply "disappeared" as 20,000 troops swarmed around Rangoon yesterday to prevent further demonstrations by religious groups and civilians. Word reaching dissidents hiding out on the border suggested that as well as executions, some 2,000 monks are being held in the notorious Insein Prison or in university rooms which have been turned into cells. There were reports that many were savagely beaten at a sports ground on the outskirts of Rangoon, where they were heard crying for help. Others who had failed to escape disguised as civilians were locked in their bloodstained temples. There, troops abandoned religious beliefs, propped their rifles against statues of Buddha and began cooking meals on stoves set up in shrines. In stark contrast, the streets of Rangoon and Mandalay – centres of the attempted saffron revolution last week – were virtually deserted."
Below left, a short piece on the Burmese army's offensive against rural ethnic minorities.
And on the right, a Japanese journalist is shot to death trying to record the human rights atrocities underway there. Here's more on the photographer's story.
Now, the BBC is reporting that thousands of monks detained in Rangoon are being rounded up and sent to prison camps in the far north. What hope have they? Little, I fear.