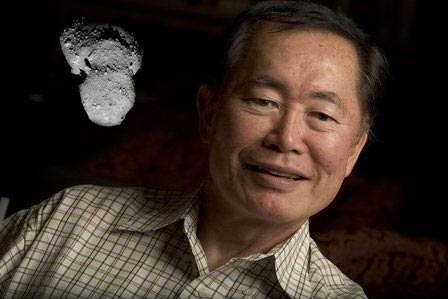 An asteroid located between Mars and Jupiter has been named for Star Trek's Hikari Sulu, actor George Takei.
The actor learned of the news yesterday. Said Takei: 'I am now a heavenly body. I found out about it yesterday. … I was blown away. It came out of the clear, blue sky — just like an asteroid."
The celestial body will now be called 7307 Takei, approved by the International Astronomical Union's Committee on Small Body Nomenclature. Tom Burbine, a Mount Holyoke College astronomy professor, proposed the name change, according to the Associated Press:
"Burbine said he suggested Takei's name in part out of appreciation for his work with the Japanese American Citizens League and with the gay rights group Human Rights Campaign. Takei, a spokesman for HRC's Coming Out Project, was cultural affairs chairman of the JACL, and he was appointed to the Japan-U.S. Friendship Commission by former President Clinton."
The photo at top is not a photo of Takei 7307, just a mock-up I created. Below, you can see the orbit of Takei 7307 from a screengrab I took at the NASA website.
George Takei came out of the closet publicly in October 2005. Since then he has been a vocal advocate for LGBT rights.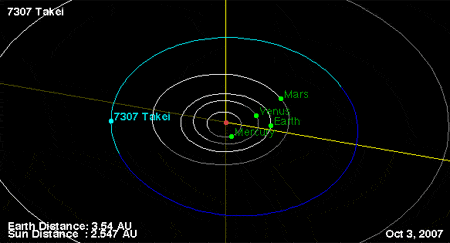 You may have missed…
Lunar Eclipse Over Fire Island, New York [tr]
Astronomers Discover Star with Comet-like Tail [tr]
Scientists Find Earth-like Planet in Nearby 'Goldilocks' Zone [tr]