A vigil was held for slain Brooklyn interior designer Michael Sandy on Sunday at Plumb Beach, near the rest stop off the Belt Parkway where a year earlier Sandy was killed after a botched robbery and subsequent chase sent him running into traffic on the busy freeway.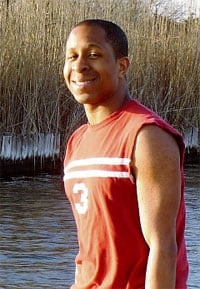 Sandy's parents apoke at the event, the New York Daily News reports: "'He was something special,' Sandy's father, Ezekiel Sandy, 65, told the crowd of friends, family and officials gathered on a peaceful patch of sand at Plumb Beach. 'There are many nights I don't sleep, many days I walk around, but you give me a lot of strength.' Michael Sandy's mother, Denise Sandy, 53, said she hopes her son's death is the last of its kind. 'Justice is being done and I'm thankful for that,' she said. 'We don't want this tragedy to happen to anybody else again.'
Just three days earlier, Anthony Fortunato, one of Sandy's attackers, was convicted of manslaughter as a hate crime and petty larceny for his role in Sandy's death. A week earlier, another attacker, John Fox, received a similar conviction. Sentencing is set for later this month.
The New York Times made a return to the scene as well. They report:
"A year after Mr. Sandy's death, little seems to have changed at Plumb Beach. On Friday, just before 6 p.m., more than 20 cars were bunched in the eastern end of the lot. While Manhattan has its openly gay neighborhoods, in the rest of the city and its suburbs, gay men — some married and with children — may choose to be more circumspect. Cars with tinted windows provide relative safety and anonymity, while a parking lot far from home protects them from becoming the subject of neighborhood rumors. In most of the cars, a single man sat behind the wheel, usually smoking a cigarette. When a reporter approached a white sedan that had been parked for 35 minutes, the silver-haired driver said he had heard of Mr. Sandy's death and the reputation of the rest stop. 'I'm not here for that,' he said."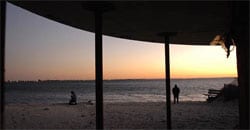 One thing that should be pointed out is that Sandy, as far as I know, did not frequent Plumb beach. He was lured there by his attackers, according to reports. So for the piece to associate Sandy with the men hanging out in the Plumb beach parking lot seems misguided.
The piece has echoes of one the Times wrote two years ago that painted gay men as lonely, isolated social outcasts. Given the time that has passed and thanks to the Larry Craigs and the Bob Allens of the world, I hope it's now possible for people to see the phenomenon in a broader social context in which it's more about the shame of the closet than anything else.
Memorial held for Michael Sandy, victim of gay-bias slay [ny daily news]
A Man's Death Shines a Light on a Shady Parking Lot [nyt]