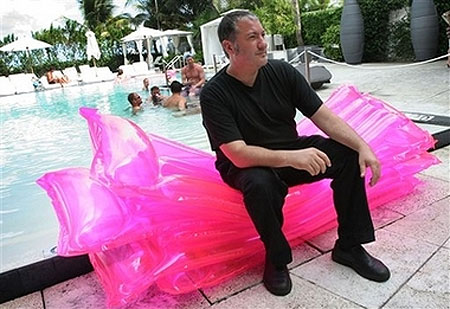 Photographer Spencer Tunick (above) produced one of his mass nude photo installations on Monday at the Sagamore Hotel in Miami Beach.
More than 500 people showed up to take part in the shoot, which consisted of several set-ups including 140 men nude in the pool on green rafts, 140 women in the pool on pink rafts, and 400 standing around the pool bar and on the balconies of the hotel, shaking bottles of Champagne and shooting foam into the air.
Tunick called the Miami project "a cross between an installation by Nancy Rubins and Robert Smithson, with the quirky quality of a Diane Arbus piece."
One notable participant was blogger and former Real World housemate Dan Renzi, who wrote about the experience on his blog.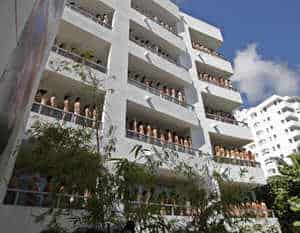 Said Renzi: "They promised us we'd come in, work out the shot, get naked really quick, and then za za zoom we'd be done. Promise! Cut to us, today: standing around naked, waiting to re-set the shot. Standing around naked, waiting for a cloud to pass. Standing around naked, because it was just so much easier than constantly pulling our clothes off and then finding them in the pile and putting them back on again. Naked naked naked. Although I couldn't work my way into a shoot until about half-way through the day; people are insane with devotion to Spencer Tunick, following him around the country like he's the Grateful Dead, and they are ruthless when it comes time to line up for shoots. He uses only part of the crowd for each shoot, the first 150/200/whatever people in line are the ones in the shot. So although you're supposed to take turns, of course people are selfish and pushy and go repeatedly. Fortunately when I did finally make it in, it was pretty good: we were lined up on the rooftop deck, shoulder-to-shoulder, standing on chairs to lift us up above the guard railing. And up there, we were perfectly in line with the Delano/National/Shore Club hotels, so anyone in their rooms had a clear view to watch. Which, of course, they were, people were virtually picknicking on their terraces and staring. But any nervousness about being naked in public was totally negated by the terror of standing several storeys in the air, teetering on wobbly chairs, inches away from a guard rail that subsequently came up only to our knees."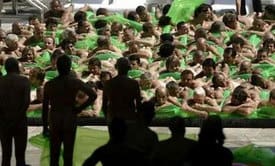 Renzi says he did the shoot because he thought it would be an interesting thing to do, although he says that for some it was somewhat dangerous: "a woman below us passed out after standing with her knees locked for too long."
Renzi was captured briefly on CNN. He notes: "You may notice my hair is all over the place; I didn't wear any product, I felt it went against the entire concept of the nakedness. Although I did wear deoderant. There's no need to be rude."
Click here for another (NSFW) shot of Renzi (in the square), via ohnotheydidnt (hey, is that Ann Coulter or Anne Heche right behind Dan?).
The photos are scheduled to be displayed at the upcoming Art Basel fair in Miami Beach. It's nice to get the naked truth about these shoots. Nice work, Dan.
I Have Been Naked All Day [how was your day, dan?]
Hundreds bare all for art in Miami Beach [miami herald]
More Spencer Tunick…
Glacial Bodies: Spencer Tunick's Latest Freeze Frame [tr]
18,000 Bare All for Spencer Tunick in Mexico City [tr]
World AIDS Day Premiere: Positively Naked [tr]
Tunick Watch: Naked on the Coast of Spain [tr]
Spencer Tunick Celebrates Skin in Caracas [tr]
A River of Flesh [tr]