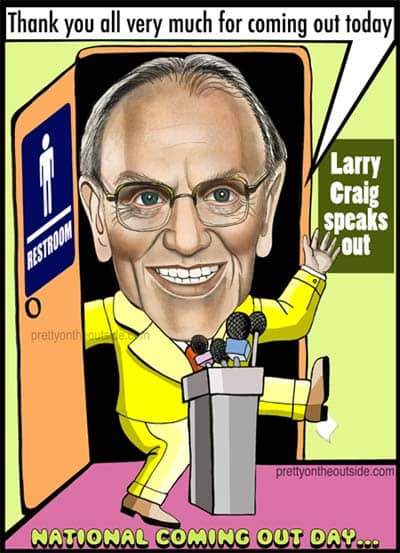 Today is National Coming Out Day, and also the 20th anniversary fo the 1987 March on Washington and the unveiling of the AIDS quilt.

We've got a new take on the well-known Keith Haring "coming out" pose courtesy of Idaho Senator Larry Craig and our friend David Gilmore at Pretty on the Outside.
Below you'll find a couple videos. The first is from HRC. This year they've asked people to celebrate National Coming Out Day by uploading their own "coming out" videos to YouTube. You can see all the video esponses here.
Eight of Bravo's stars — Andy Cohen, Daniel Vosovic, Tim Gunn, Sandee Birdsong, Ted Allen, Dale Levitski, Ryan Brown, and Jesse Brune — have also posted videos over at OutZoneTV.
The second video below is a Coming Out Day message from four women who discuss the harm done by ex-gay programs that promote marriage as a cure for homosexuality. From Wayne Besen at Truth Wins Out. Stephen Bennett take note.
Finally, Nathaniel over at Film Experience has compiled an exhaustive list celebrating Hollywood's out directors, actors, and actresses. No doubt if every Hollywood talent had the courage to come out that list would be a hell of a lot longer.
Visibility is the greatest weapon that we have in the fight for LGBT rights. Encourage it.