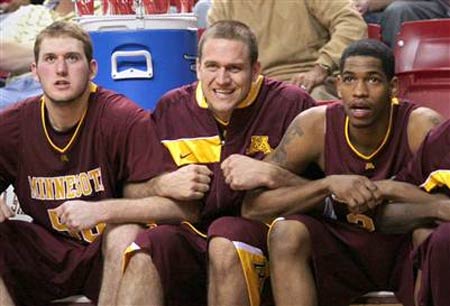 Former Minnesota Gophers basketball player Zach Puchtel (above, center) interrupted a fashion show last May and told an audience of 3,000 people that he was gay. A fairly big announcement which seems to have led to a much more complex analysis from the athlete himself. Yesterday, in an interview with the GopherHole website he says he's neither gay nor straight.
The GopherHole asks how his former girlfriend reacted to the news:
GH: How did she react when you told her? Was she surprised?
ZP: I had shared some feelings with her, but yeah, she was shocked. She was very understanding. For the record, I'm not gay, I am who I am.
GH: Does that mean that you are interested in dating men or women?
ZP: Women.
GH: I'm a little confused, how is that coming out if you still want to date women?
ZP: I had to find out exactly where I stood with my own sexuality, and so I did.
GH: So…you experimented and realized you did want to be with women?
ZP: I'm at a point that if I met someone and loved them, I wouldn't let their gender get in the way, and I don't think anyone should.
…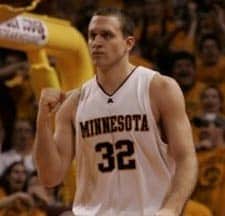 GH: What sort of backlash have you experienced, if any?
ZP: Not much, most people have thanked me for speaking out once again. It feels as though I'm helping people by being myself, and I'll do that anytime I can.
GH: What do you want people to learn from your coming out?
ZP: I guess the take home message would be that being yourself is ok, regardless of stereotypes and other people's opinions. I believe it was Socrates who said, "Know thyself."
Confused, or simply evolved and fluid with his sexuality? Whatever the case, I appreciate his message. Puchtel, who graduated last spring, hopes to go into the NFL.
He also has a blog, called The Search. In a recent entry, he writes: "I want to play football in the NFL. I believe that I was put on this earth to play football. This is my next goal, and I don't see anything that can stop me. Narcissism and ego aside, the one problem that may arise is the issue of being gay. I am not gay. I am not straight. I am who I am. I am sexually attracted to men and women, and I enjoy being with women in intimate relationships. I think human beings are beautiful, and I try not to differentiate due to sex, race or any other minute detail. We are all humans, we are more than 99.9% similar in every way, and we all share this life together."
Former Golden Gopher comes out [outsports]
"Go Big or Go Home" Zach Puchtel's Philosophy on Life, Sports, and Coming Out [gopherhole]
The Search [blog]