A group of scientists credited for researching and proposing a chemical "gay bomb" to the Pentagon that would have made enemy soldiers irresistible to one another was awarded the 2007 Ig Nobel Peace Prize, a spoof of the Nobel Prize.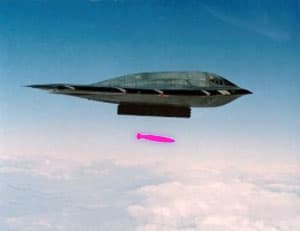 The awards are meant to reward achievements that "first make people laugh, and then make them think".
According to the BBC, "Genuine Nobel Laureates handed out the much-coveted awards to the winners, who took away no cash, but instead received a hand-made prize, a certificate, and, of course, the glory of such an illustrious win."
The awards are given in quite a few different categories.
Regarding the "gay bomb", Pentagon officials confirmed that in 1994 the U.S. Military considered and then rejected a proposal to build a "hormone bomb" that would transform enemy soldiers into homosexuals and make them more interested in having sex with one another than fighting. The Air Force lab requested $7.5 million to research the gay bomb. And while the military says the notion was ruled out quickly, Edward Hammond of Berkeley's Sunshine Project, a watchdog group tracking military spending, says there was more consideration involved: "The truth of the matter is it would have never come to my attention if it was dismissed at the time it was proposed. In fact, the Pentagon has used it repeatedly and subsequently in an effort to promote non-lethal weapons, and in fact they submitted it to the highest scientific review body in the country for them to consider."
You may have missed…
Pentagon Sought "Gay Bomb" Says Watchdog Group [tr]
Dead Duck Fuck [tr]