A pretrial hearing was held on Thursday in the case of Bob Allen, the Florida representative who was arrested after offering an undercover police officer $20 for the opportunity to perform oral sex in a public men's room in July.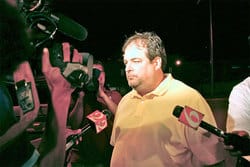 At the hearing, Allen denied using his lawmaker status to gain advantage during his arrest:
"During Thursday's hearing, two police officers testified that as Allen was being placed in a patrol car after his arrest he asked whether it 'would help' if he were a state legislator. Responding to the allegations for the first time, Allen offered a very different version of what happened. Allen said he and an officer were discussing whether his car would be left at the park, towed or driven to the police department when he mentioned being a legislator. 'I said, 'I don't know if it makes a difference, but when you get to the car you'll see I'm a state legislator," Allen said he told the officers, referring to a special tag in the vehicle."
Allen's lawyer wants the remarks thrown out: "It has no probative value as to whether Mr. Allen solicited anyone. The state is arguing that he is a bad legislator using his position to get out of trouble. That's going to become the focus of this case."
Prosecutors say the remarks show "consciousness of guilt". The judge said he needed more time to decide but did throw out some evidence regarding $800 in cash that was in Allen's car at the time of the arrest.
Rep. Allen denies he used his position [orlando sentinel]
For all the Bob Allen coverage, click here.