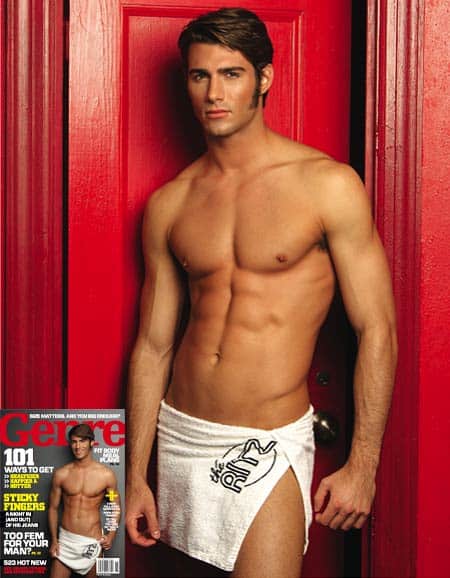 The November issue of Genre magazine features Terrence McNally and the entire cast of the Broadway revival of The Ritz, a mobster farce set in the confines of a 70's bathhouse. The decadent pre-AIDS world of New York's bathhouse scene is revisited with a look at the entire cast as well as the production's colorful set. On the cover is model and bathhouse patron Justin Clynes, who also shares the stage with, among others, porn icon Ryan Idol.
I caught a performance of The Ritz recently, which is staged, appropriately at the legendary Studio 54. Having not seen the original production, I was unsure of what to expect and surprised when the show's plot was less sexual than its marketing materials (currently running on this site, with text covering the torsos clad in towels) seem to suggest. Though there is plenty of eye-candy, including the now bearish Idol romping around the stage while smoking a big cigar and holding a vat of Crisco, The Ritz is more of a farce along the lines of Michael Frayn's Noises Off with plenty of slamming doors, pratfalling, and mistaken identities.
What makes the show, however, is Rosie Perez' wonderful turn as bathhouse singer Googie Gomez (a part originated by Rita Moreno), a role for which Perez seems perfectly suited. The tragedy of what's to come in the 80's for these bathhouse patrons rarely crossed my mind, which for the show's sake is a blessing. Time may have healed some wounds. A touch of laughter definitely helps.