Worried that disgraced Idaho Senator Larry Craig may dig in his heels and never leave the Senate, his Republican colleagues are threatening an ethics probe that would pick apart every moment of his arrest, dig through past records to find any more dirt on the Senator, and force him and other witnesses to testify publicly about the activities.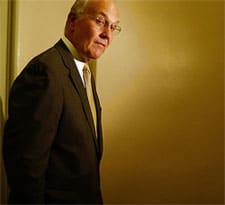 The Washington Post reports: "The Senate hearing would examine the original charges in Craig's case, including the allegation of 'interference with privacy,' for peeping into the bathroom stall occupied by an undercover police officer. One senior Republican aide imagined 'witnesses, documents, all in front of the klieg lights.' The committee also could look for 'a pattern of conduct' — which means combing court records in other locales to discover whether Craig had prior arrests that haven't come to light."
Craig is currently waiting for a judge in Hennepin County, Minnesota to decide whether or not he can withdraw his guilty plea for disorderly conduct stemming from his arrest in a Minneapolis airport men's room in June. Last week, Judge Charles A. Porter Jr. said it would be no sooner than a week before he would issue a ruling in the case.
GOP Is Ready to Roll Out the Klieg Lights for Craig [washington post]