At what point does this officially qualify as an epidemic?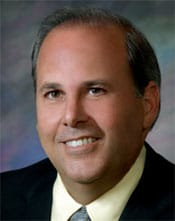 Republican state senate candidate Joey DiFatta has reportedly dropped out of the race in Louisiana following revelations that he was stopped not once, but twice, for lewd conduct suspicion. In the first, a "Peeping Tom" incident, DiFatta was issued a misdemeanor summons for spying on a man in a stall at a Mervyn's department store at The Esplanade mall. The man whose privacy he allegedly violated eventually withdrew his complaint.
In the second, DiFatta was caught pulling a Larry Craig in a stall at at Dillard's at Lakeside Shopping Center, according to the Times-Picayune:
"The deputy inside the stall, Detective Wayne Couvillion, responded by tapping his foot, and DiFatta reached under the partition and began to rub the deputy's leg, the report states. The detective asked DiFatta, 'What do you want?' according to the report, and he replied, 'I want to play with you.' DiFatta also used a hand signal to indicate that he wanted to engage in sex and used language that indicated the same, according to the report. Conley, who is now the Kenner city attorney, confirmed the report's authenticity Thursday. The incident did not culminate in an arrest because the deputy in the bathroom with DiFatta terminated the investigation after several children entered the bathroom, the report states."
Said Di Fatta: "If I had done something wrong, I would have been arrested. I was not. I will deny that I was involved in any activity of that nature."
DiFatta is a Councilman for St. Bernard Parish in New Orleans. According to DailyKos, DiFatta was a member of the Republican State Central Committee from 1996-2004, is married with two sons and three grandchildren, and pledged to "defend our conservative values from attacks by extreme liberal groups" as part of his campaign.