Second lady Lynne Cheney has a new book coming out and she spoke with CBS about it as well as about how she has "evolved" on racism and homophobia: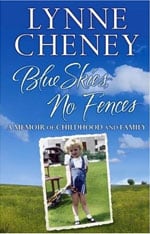 In Blue Skies, No Fences: A Memoir of Childhood and Family
, "Cheney acknowledges that her world of prom dates and being homecoming queen was not open to everyone – African Americans, for example. And she writes that the times 'were hard on kids who were gay.' It's an issue that Cheney is sensitive to as the mother of a gay daughter. 'I think the society has evolved,' she said. 'I've evolved in my way of thinking, but I think the whole society has evolved. You know, my mother had a rule which was people are just people.'"
Well, last time I checked, society hadn't evolved much.
And according to Dick, Lynne is way out of line for discussing Mary. Because in the "evolved" world of the Cheneys, you can neither talk about your gay kids, nor offer them equal rights. Unless, of course, you have a book to sell.