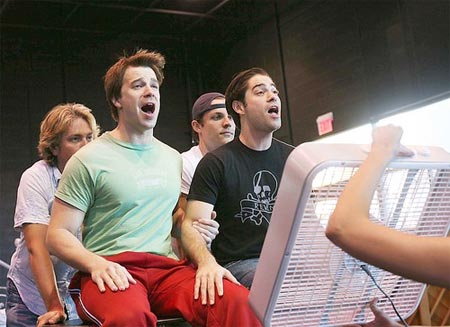 A two-week workshop production of a new musical based on Versace serial killer Andrew Cunanan opens tonight at the La Jolla Playhouse.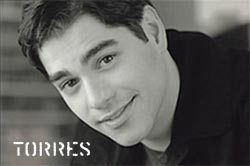 According to the North County Times, "The musical's creators say the Versace murder by the Filipino-American social climber, Cunanan, was the obvious inspiration for Most Wanted, but not the message. [Composer Mark] Bennett said the musical instead will explore American pop culture, racial relations (Cunanan and playwright [Jessica] Hagedorn are Filipino-Americans) and the seductiveness of celebrity, money, power and fame. 'The important thing for me in writing this piece was to address the question of why this culture of celebrity is so prevalent today,' said Hagedorn, whose play about Filipino culture, 'Dogeaters,' had its world premiere under [Playhouse artistic chief Michael] Greif's direction at the Playhouse in 1998. 'And how do people of color play into that? This play explores the dark side of the American dream. What does it really mean to be a person of color in this country? What does being American mean? Does it mean you are fine if you are famous?'"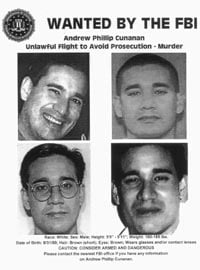 The L.A. Times reports on the show and its unconventional narrator: "Some time later, as composer and playwright pecked away in Hagedorn's apartment, their drag queen rose to the rescue. Previously given a cameo in the script's back pages, she started 'shaping and shaping and shaping herself,' as Hagedorn puts it, complete with a sassy and savvy demeanor. Named Stormy Leather, the drag queen became the sardonic, all-knowing mainspring for telling and commenting upon the story — which would now be framed by her act as mistress of ceremonies at Uncle Buck's, a cabaret that's supposedly in San Diego, but spiritually closer to 'The Twilight Zone.'"
The musical has been in development since 2004, when the NEA created controversy by awarding its creators a $35,000 grant.
The cast: "Most Wanted stars Daniel Torres (whose Broadway credits include 'The Pirate Queen' and 'The Woman in White' and the off-Broadway production of 'Altar Boyz') as the central character Danny Reyes, a bright, working-class minority youth who earns a scholarship to an elite private school, then goes astray. Broadway veteran Ken Page ('Cats,' 'Ain't Misbehavin" and 'The Wiz') co-stars as Stormy Leather, the drag queen who narrates the story. And Arthur Acuna plays both Danny's father and fashion designer Apolo Serra."
'Andrew Cunanan–The Musical'? [la times]
Playhouse unveils workshop musical inspired by SD serial killer's quest for fame [north county times]
(top image: LA Times)