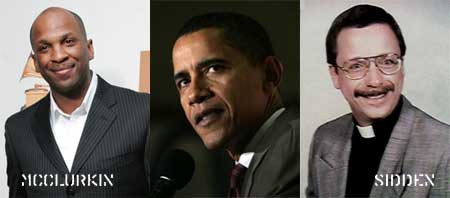 Barack Obama held a conference call with supporters today and announced that he had added Rev. Andy Sidden, a United Church of Christ pastor in Columbia, SC, to his South Carolina gospel tour as a response to the uproar caused by his decision to retain anti-gay pastor Donnie McClurkin.
The Boston Globe reports that The Politico noted that "Obama's advisers also asked supporters to contact the Human Rights Campaign, a leading national gay rights organization, and urge the group not to criticize the senator."
HRC's president, Joe Solmonese released a statement late this afternoon: "I spoke with Sen. Barack Obama today and expressed to him our community's disappointment for his decision to continue to remain associated with Rev. McClurkin, an anti-gay preacher who states the need to 'break the curse of homosexuality.' There is no gospel in Donnie McClurkin's message for gay, lesbian, bisexual and transgender people and their allies. That's a message that certainly doesn't belong on any Presidential candidate's stage. I did thank him for announcing he would be adding an openly gay minister as part of the tour and for his willingness to call on religious leaders to open a dialogue about homophobia. We hope that Sen. Obama will move forward and facilitate face to face meetings with religious leaders, like Rev. McClurkin, and the GLBT community to confront the issue of homophobia. We also call on all of the Presidential campaigns to look within their ranks of supporters and make the same commitment to engage in a dialogue among differing views around issues of equality and fairness for our community."
So, I guess the question is, does adding a voice of tolerance negate the hater on the other end of the scale, which is what Obama's intention seems to be with this move? If a candidate's tour included Fred Phelps but he or she decided to suddenly "balance it out" at the last minute by adding Judy Shepard, what kind of message does that send?
Recently
"Ex-Gay" Reverend McClurkin Speaks Out on Obama Controversy [tr]
Barack Obama Releases Statement on Reverend McClurkin [tr]
Barack Obama to Tour with Anti-Gay Gospel Singer [tr]