Judge Leslie Southwick, seen by many as a racist bigot, was confirmed to a federal appeals court seat in Mississippi. Breaking from the Democrats, Dianne Feinstein voted in August to confirm the judge, a vote Republicans saw as a "linchpin" in the nomination according to The Politico.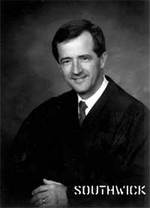 Southwick, who believes children should be taken from gay parents, cleared the Senate on Wednesday by a 59-38 vote.
At a press conference, which Feinstein attended GOP leaders heaped praise upon her.
Said Arlen Specter: "This may be out of precedent, but if I may, with the concurrence of the home-state senators, yield to the hero — the lady — of the day, Sen. Feinstein."
Trent Lott actually wept with joy: "She took a tough stand and showed a lot of courage. It is emotional for me because this is a good man, and he will make a great judge on behalf of my state, which I feel has been maligned in this and other instances."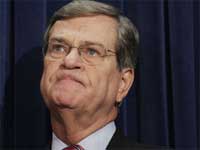 The Politico reports: "The story of how the contentious nominee of an unpopular president made it through a Democratic-controlled Senate centers on several main characters. Specter gathered a dozen conservative groups early on and urged them to fight for Southwick. Lott appealed to Republican senators one on one and reached out to Sen. Ben Nelson (D-Neb.), the Senate's most conservative Democrat. Nelson, in turn, rallied members of the Gang of 14, the bipartisan group that agreed in 2005 to avoid filibustering judicial nominees except under extraordinary circumstances. There were discussions about Republican cooperation on appropriations if Democrats agreed to back Southwick. Lott kept talking with Feinstein, too, whose vocal support proved critical by providing cover to others in her party."
Said Feinstein: "Is he not a person inclined to protect civil rights? For some, is he a racist? I looked very carefully at him.I really came to the conclusion that he is none of the above."
Senate Confirms a Bigot as U.S. Circuit Judge [oped news]