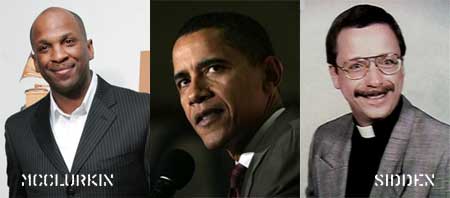 Stating that Barack Obama speaks "truth in love to both sides," a group of black supporters made up of religious leaders and a group of LGBT some of whom are activists and former leaders at the Human Rights Campaign, this afternoon released a letter in support of Obama's South Carolina gospel tour.
The letter is an attempt to quell outrage from the LGBT community at the inclusion of Reverend Donnie McClurkin, an "ex-gay" pastor and notorious homophobe who performed at the Republican National Convention in 2004, has vowed to battle "the curse of homosexuality," and believes that gays can be turned straight with religious intervention.
Yesterday, Obama added openly gay Reverend Andy Sidden to the tour to counter the furor over McClurkin.
The letter released today reads, in part:
"A few things are clear. First, Pastor McClurkin believes and has stated things about sexual orientation that are deeply hurtful and offensive to many Americans, most especially to gay Americans. This cannot and should not be denied. At the same time, a great many African Americans share Pastor McClurkin's beliefs. This also cannot be ignored. Finally, we believe that the only way for these two sides to find common ground is to do so together. Not at arms length. Not in a war of words with press and pundits. Only together. It is clear that Barack Obama is the only candidate who has made bringing these two often disparate groups together a goal. In gatherings of LGBT Americans and African Americans of faith, Obama has stated that all individuals should be afforded full civil rights regardless of their sexual orientation, and that homophobia must be eradicated in every corner of our nation. If we are to end homophobia and secure full civil rights for gay Americans, then we need an advocate within the Black community like Barack Obama. At the same time, while Obama has said that he 'strongly disagrees' with Pastor McClurkin's comments, he will not exclude from his campaign the many Americans including many in the African American community who believe the same as Pastor McClurkin. We believe that Barack Obama is constructing a tent big enough for LGBT Americans who know that their sexual orientation is an innate and treasured part of their being, and for African American ministers and citizens who believe that their religion prevents them from fully embracing their gay brothers and sisters. And if we are to confront our shared challenges we have to join together, build on common ground, and engage in a civil dialogue even when we disagree."
Read the full letter here.
Joint Letter from the African American Religious and LGBT Leadership Teams [barack obama campaign]
Background…
Obama Adds Openly Gay Minister to Counter McClurkin Furor [tr]
"Ex-Gay" Reverend McClurkin Speaks Out on Obama Controversy [tr]
Barack Obama Releases Statement on Reverend McClurkin [tr]
Barack Obama to Tour with Anti-Gay Gospel Singer [tr]