Tennessee native Dee Rees, an MFA candidate at NYU, won the Iris Prize, a £25,000 award thought to be the largest of its kind for a gay and lesbian film festival. Rees won for her short film Pariah, about the coming-of-age of a lesbian teen. There was a shortlist of 30 other contenders.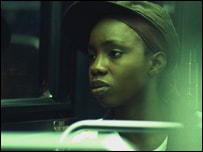 The BBC reports: "Announcing the winner of the prize at the awards show at Cardiff's Cineworld, Frances Hendron, jury chair said: 'This film was impactful. It is a personal story told in a universal manner. The film maker displays excellent film making skills from the direction of the actors, the integral music sound track and a natural control of its subject.'"
The Iris Festival took place this year in Cardiff, Wales.