From the "just what we don't need" dept…
New public toilets to be constructed in London's famous Camden Passage antiques market are causing controversy after Mike Weedon, a member of the Camden Passage Association, suggested that they be named for murdered gay playwright Joe Orton. Orton, who wrote lived in the market's location, Islington, and was beaten to death in a jealous rage there by his lover Kenneth Halliwell.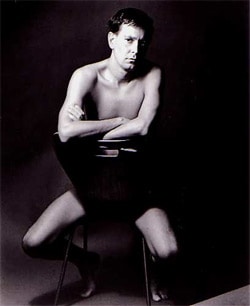 Weedon suggested the toilets be named after Orton because he was known to frequent public toilets in the area looking for sex.
Said Weedon to the Islington Gazette: "I'm sure I'll get some furious reactions but I've been told by people who knew Joe Orton that he would have loved the idea. I think having a toilet with a blue plaque dedicated to him would suit his personality. Joe Orton did what he did because it was the only place he could do it in those days. I think having a bog named after him would show how attitudes have changed over the last 40 years. We wouldn't be celebrating cottaging – we would be celebrating how much more liberal we are these days. We could get Gary Oldman, who played Joe in the film, to come and unveil the plaque. The Screen on the Green could do a Joe Orton season and the King's Head could do a play on him," said Mr Weedon. We don't have that many famous people from Islington. We should be celebrating one of our own."
Area residents are opposed to the idea. Said one: "This sounds like a very bad joke to me. Frankly, I think it would be an insult to the man's memory. How many toilets are named after people? I've never seen a Winston Churchill's Release Station. I certainly wouldn't want to be remembered by a toilet. I don't think anyone would."
Said Deputy Islington Councillor Terry Stacy: "There's no doubt Islington needs more public conveniences and the council will look at any suggestions for locations from traders and residents. Joe Orton already has a blue plaque on the house where he used to live. I would only support a blue plaque on a toilet if something worth commemorating happened there, and I doubt there is a toilet in the country that can lay claim to that."
Although the "Larry Craig Layover Lounge" is drawing crowds in Minneapolis.