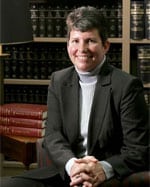 Ohio Governor Ted Strickland this week replaced retiring Common Pleas Court Judge John Kessler by appointing former Dayton city commissioner Mary Wiseman to replace him. In doing so, Strickland apparently gave Ohio its first openly gay judge.
The AP reports: "Officials with gay rights group Equality Ohio say Wiseman's appointment makes state history. Forty-five-year-old Wiseman says she's proud if the gay community sees her as a role model and says she believes the rest of society can grow more comfortable about gays and lesbians in public office. Strickland gave Wiseman the news more than a week ago. On Monday, he said he's happy if he broke a barrier, while noting he made his choice because of Wiseman's qualifications."
Earlier this month, Daniel Anders took the bench in Philadelphia, giving that city its first openly gay male judge. And of course, earlier this year, Judge David Young became TV's first openly gay judge. Justice for all.