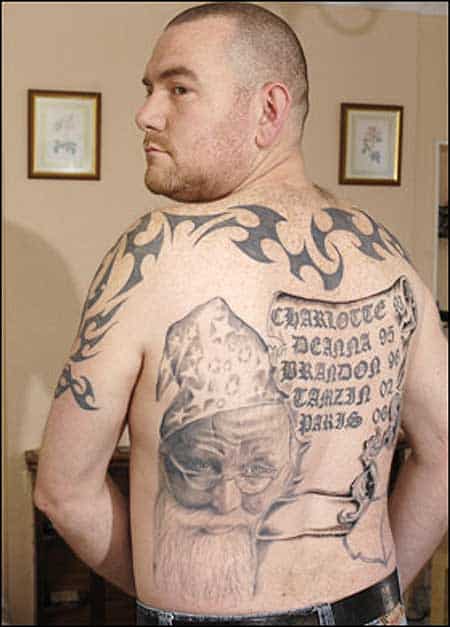 A father of five in the UK is apparently being teased by his kids and his co-workers now that Dumbledore, which he spent a year getting tattooed onto his back, has been outed by J.K. Rowling.
Said Paul Croft to The Sun: "It's been terrible. I've always liked Dumbledore – just not in that way. I went into work and everyone was sniggering. When I walked in, one of the lads said, 'Oi, Paul – heard about Dumbledore?' There were wisecracks about 'Watch your backs, lads.' Someone asked me if I was planning to get a tattoo of Graham Norton. I thought, 'Why me?' It seemed like a good idea at the time. The whole thing took nearly a year. I was really pleased with the result. The tattoo is about 2ft in length and shows Dumbledore played by Richard Harris – who was the original and best. I don't regret it and I'm not going to get rid of it."
The tattoo, which cost him £500, shows Dumbledore holding a scroll with the names of his five children.
Recently
J.K. Rowling: Dumbledore is a Gay Wizard Daddy [tr]