RETIRED ADMIRALS AND GENERALS URGE CONGRESS TO REPEAL GAY BAN
The Human Rights Campaign and Servicemen's Legal Defense Network along with the Log Cabin Republicans and the Liberty Education Forum are sponsoring a three-day event on the National Mall in DC beginning today in which 12,000 flags will be planted on the mall representing every servicemember discharged under "Don't Ask, Don't Tell".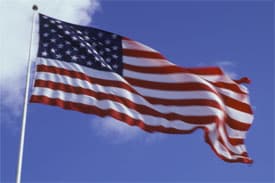 According to HRC, "These flags will stand as a testament to the waste to our military, our security, and our country caused by this discriminatory law." Today is the 14th anniversary of the signing of "Don't Ask, Don't Tell" and events will kick off with a press conference at 10 am, after which the mall exhibit will be open to the public.
Additionally, the New York Times reports that 28 retired generals and admirals will be releasing a joint letter today "urging Congress to repeal the law."
Says the letter: "We respectfully urge Congress to repeal the 'don't ask, don't tell' policy. Those of us signing this letter have dedicated our lives to defending the rights of our citizens to believe whatever they wish."
According to the paper, "The retired officers offer data showing that 65,000 gay men and lesbians now serve in the American armed forces and that there are more than one million gay veterans."
UPDATE: Here's the text of the letter.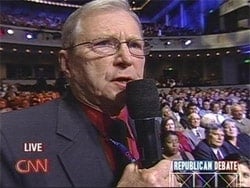 The anniversary falls just days after openly gay retired Brigadier General Keith Kerr's question about gays in the military at the Republican YouTube debate was clouded by accusations that he was a "plant" from the Hillary Clinton campaign.
And yesterday, conservative pundit Pat Buchanan attacked Kerr for not having the courage to come out while he was still serving!
Said Buchanan: "There's an element of fraud here. When the general did not identify himself as a fierce partisan of Hillary Rodham Clinton and presented himself simply as a military man who had served and was gay. And who obviously did not have the courage, frankly, when he was in the military to come out of the closet and say I'm gay. And to attack the Republicans for lacking the courage to take a position he was unable to take, I think makes him look rather bad."
Regarding Kerr's background, CNN's president Joe Klein responded yesterday: "I think it's pretty obvious, in retrospect, our search should have turned this up. It's in the nature of doing something that hasn't been done before — you're going to try to anticipate everything, and you're going to fail at that. Had we known ahead of time. we would probably not have used his question. It raised too many flags, in terms of motivation."
"12,000 Flags for 12,000 Patriots" tribute will honor American soldiers discharged under Don't Ask Don't Tell [hrc backstory]
A New Push to Roll Back 'Don't Ask, Don't Tell' [nyt]
Buchanan Attacks Gay General For Not Having 'The Courage' To 'Come Out' While Still Serving [think progress]