Australian voters (including those from Bondi beach, above) delivered a stinging rebuke to John Howard's policies over the weekend as they voted the nation's second-longest serving leader out of office and elected Labor Party (ALP) head Kevin Rudd (pictured with wife Therese Rein and son Nicholas, below) the nation's new Prime Minister in a decisive victory.
The changing of the guard also sent a clear message to George W. Bush:
"Rudd has named global warming as his top priority, and his signing of the Kyoto Protocol will leave the U.S. as the only industrialized country not to have joined it. Rudd said he would withdraw Australia's 550 combat troops from Iraq, leaving twice that number in mostly security roles. Howard had said all the troops will stay as long as needed."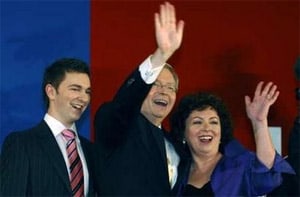 Australian gay site Same Same was optimistic that the new establishment would offer more rights and deliver better protections for gays and lesbians in the country:
"Despite the popularity of individual candidates, the Gay and Lesbian Rights Lobby's election survey showed that pink voters went into this election with a stark difference between the major parties on gay and lesbian equality. The ALP came out particularly stronger than the Coalition on relationship and family recognition, addressing homophobia in education and consultation with our community. On the issue of relationship recognition, the Coalition promised only superannuation death entitlements for same-sex partners of Commonwealth employees. In contrast, Labor promised comprehensive de facto equality for all same-sex couples and their children across superannuation, taxation, immigration, health and family law. Our job is now to ensure Labor delivers on this promise."
On a humorous note, the Bondi voting hunk pictured in the top photo appears to be paying homage to Rudd's recent run-in with viral video.
Labor Party Wins Big in Australia [ap]
Ruddy Good News – What The Election Results Mean For Us [same same]
Kevin Rudd's Victory Speech [adelaide now]
Previously
Australian PM Candidate Kevin Rudd Avoids Gay Question [tr]
Australian Politico's Ear Wax Snack is International Sensation [tr]