Mississippi GOP Senator and minority whip Trent Lott will resign his Senate seat before the end of the year, NBC reported this morning: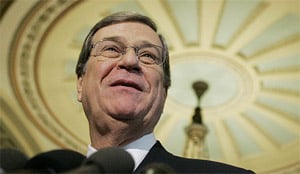 "While the exactly reason Lott is stepping down before he finishes his term is unknown, the general speculation is that a quick departure immunizes Lott against tougher restrictions in a new lobbying law that takes effect at the end of the year. That law would require Senators to wait two-years before entering the lucrative world of lobbying Congress. Also unclear at this point is how Lott's seat would be filled. One Lott supporter said he hoped Republican Mississippi Governor Haley Barbour would appoint U.S. Representative Chip Pickerting to the post, keeping the seat in the hands of Republicans, at least in the short term."
Or, as Joe at AmericaBlog suggests, perhaps he just misses his friend Strom Thurmond.
Lott's remarks at Thurmond's 100th birthday party have not been forgotten, despite apologies. At that party, he referenced Thurmond's run for President in 1948 on the Dixiecrat ticket on a racial segregation platform: "When Strom Thurmond ran for president, we voted for him. We're proud of it. And if the rest of the country had followed our lead, we wouldn't have had all these problems over the years, either."
Lott made his most well-known comment about homosexuality in a June 1998 television interview, when he said, "It is [a sin]….You should try to show them a way to deal with that problem, just like alcohol…or sex addiction…or kleptomaniacs."
NBC says a formal announcement may come from Lott as soon as today.