Rolling Stone's Jann Wenner and partner Matt Nye are expecting twins in January.

Daughter of anti-gay leader Amy Contrada (MassResistance) comes out of the closet: "I am a lesbian, which my mom still does not get. She just says that I am confused. I realized in around eighth grade, but I was in denial for quite some time because I was scared due to my mother constantly saying that homosexuality is wrong. How can it ever be wrong to love though? That's what I'd like to know."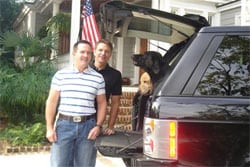 Reuters discovers that some Republicans are gay!

Scientist tweak gene in mice to create "mighty mouse": "Scientists at Case Western Reserve University have genetically engineered mice that outrun, outlive, and out-eat ordinary mice while staying lean, light, and fertile well into old age…A major unanswered question, Hanson's team notes, is what brain changes accompany the genetically engineered mice's hyped-up activity."

Ellen DeGeneres takes on the holiday as a "not pregnant" Jennifer Lopez.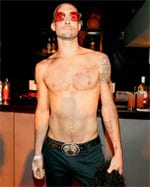 Maroon 5's Adam Levine dresses down for slut-o-ween.

Daniel Radcliffe confirmed for Equus on Broadway in September 2008: "… it took months of negotiations to secure a deal with the theatre-owning Shubert Organisation and for the producers David Pugh and Dafydd Rogers to sort out all the paperwork for the play's two leading men to perform in New York. Director Thea Sharrock will begin rehearsals next August."

Get ready for more Reality TV: Hollywood writers to strike for the first time in almost 20 years – "We've never been more united and we are willing to deal — and our decision makers are at the table. Their decision makers are not at the table, and that tells you pretty much all you need to know about how the companies are pushing this."

Royal blackmailer Ian Strachan to apply for bail: "Lawyers representing Ian Strachan, 30, are due to make an application behind closed doors at the Old Bailey. A previous application last week was adjourned after a few minutes because the lawyers needed more time to prepare. Strachan is not expected to attend but will be released from Belmarsh prison, south-east London, if bail is granted."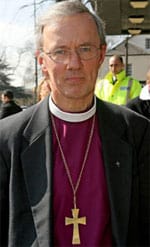 Bishop wins Bigot of the Year award from UK gay rights group Stonewall: "An employment tribunal in Cardiff in April heard how youth worker John Reaney, 42, was left feeling humiliated after a two-hour interview during which the bishop grilled him about a previous gay relationship. The tribunal decided Mr Reaney had been a victim of unfair dismissal and awarded damages against the Church of England."

On Wednesday I posted about the latest hustler to bring down a Republican hypocrite, and his porn past. Fleshbot has a big round-up of Cody Castagna's adult activities (NSFW).

SLOG reads the latest Intergovernmental Panel on Climate Change Report, and it's quite terrifying.

Munich version of Tchaikovsky's Eugene Onegin features drag queens and Brokeback Mountain references. It's not being received well: "There is no novelty value left in the outing of Tchaikovsky. Half-naked cowboys and men in ballgowns are cheap cliches. An exploration of the two men's relationship is legitimate, since it is one of the opera's deepest and certainly its most tragic. With more subtlety and professionalism, it might have worked."

Thai gay activist says he was refused insurance because he is gay: "Natee Teerarojjanapongs, president of the Gay Political Group of Thailand, said he had tried to buy a policy from AIA sales agent Pachara Pipatwong on Sunday. However, after Pachara called to consult an AIA official who liaises with the company's agents, Natee was told he could not do so because he was gay. 'AIA is violating the 2007 Constitution, as it is restricting my rights. [Pachara] told me the official said AIA policy stated that it did not give homosexuals insurance,' Natee said after speaking to the council, which met to monitor how the new Constitution was being implemented. 'I'm willing to let them give me a full health check if they think that I'm in a high-risk group. There's no reason to deny me and other gays or transvestites life insurance. We are educated like others in society. Not all of us engage in risky behaviour,' he said."