French police have a arrested, Nicolas Panard, a 68-year-old man who reportedly makes his living as a drag queen for the murders of 18 men in eastern France and Paris, most of whom were gay, between the years of 1980 and 2002.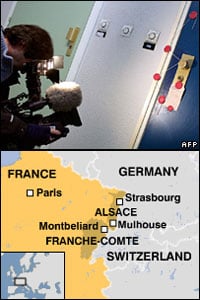 Agence France Presse reports: "Detained Tuesday in the eastern city of Mulhouse, the man was being held in nearby Montbeliard along with another suspect who is already serving a murder sentence in a Paris jail, the source said. Both men deny the accusations, according to the prosecution, which said it had "no formal proof" of their guilt at this stage. L'Alsace newspaper said the key suspect worked as a female impersonator and that his arrest followed a two-year investigation by a Montbeliard police officer, who spotted his name in database files relating to a string of unsolved murders."
According to the BBC, "… the arrests were the result of two years' work by a police officer based in Montbeliard who had originally only been investigating a murder in 1991 in nearby Sochaux. By using a police crime database, the officer found mentions of Mr Panard's name in the case files of several unsolved murders, the paper reported. The officer also discovered several common features in the murders, including that the victims had all been killed by blows to the head followed by multiple knife wounds, it added. Each time the victims' bodies were found partly naked, but with their faces covered."
The photo at right, via BBC, shows the sealed door of Panard's home and the locations of the various murders.
France holds man over 18 murders [bbc]
French police detain 'drag queen' over 18 gay murders [afp]