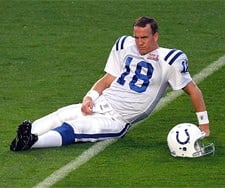 The Indianapolis Colts have been accused of enhancing the level of sound in the RCA Dome after an unusual noise was heard during the Colts-Patriots broadcast, which was then uploaded to YouTube. That unusual noise would be familiar to anyone who has heard a CD skip before. It can be heard at about the :30 second point in the clip above. In addition, the roar of the crowd comes to an abrupt, unnatural halt shortly thereafter.
The Colts claim the noise was made by the CBS production crew, and the NFL is standing behind them: "CBS has informed us that the unusual audio moment heard by fans during the Patriots-Colts game was the result of tape feedback in the CBS production truck and was isolated to the CBS broadcast. It was in no way related to any sound within the stadium and could not be heard in the stadium."
Of course, given the way things are going these days, who's to say he wasn't holding a fake news conference?
Related
FEMA Fakes Wildfire Press Conference, Apologizes [tr]
NFL and Indianapolis Colts Coach Dungy Raise Money for Anti-Gay Hate Group [tr]