Please welcome Jon Barrett, with this week's tech news about 80-proof art, Amazon's Kindle, the Earth on your desk, Google paparazzi, early hours at the Apple store, and the future of phone sex.

Now here's some art almost everyone can inebriate. As TheCoolhunter first reported, Hannes Broecker's exhibition in Dresden, Germany, includes this series of flat, glass containers filled with a variety of cocktails. Gallery guests fill their glasses with the "art" while they watch the multi-colored infusions diminish.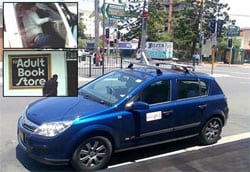 Better watch yourself if this Google-branded car is lurking on a street near you. As Google has been expanding the Street View feature of its map service, cameras mounted on cars like this have inadvertently photographed many a man in a compromising position—such as the guy to the right, outside an adult bookstore. Google Street View launched in May and is currently available for 15 U.S. cities. It's now expanding to Canada and Australia, where Seb Ruiz snapped the shot of the Google car traversing Sydney streets and then posted it on his Flickr page. Google reps tell the Sydney Morning Herald that they take care to obscure people's faces. Still, I won't be taking any chances next time I'm at Fatburger.

In further Google news, the company on Wednesday launched Maps with My Location, which locates users who don't have GPS-enabled phones—based on the nearest cell tower. PCWorld reports that "the service could be useful to a person who might be traveling in an unfamiliar city and looking for restaurants or other businesses." In order to use it, phone owners must download a free application from Google, which will work on Blackberry, Windows Mobile, and Symbian phones.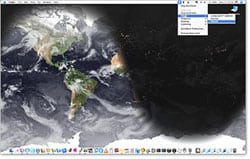 Josh Rubin at Cool Hunting has pointed out the coolest desktop wallpaper yet. Earthdesk puts a constantly updated view of the earth on your screen. Reports Rubin: "The most striking part, of course, is that Earthdesk provides a visual of time pasing, with accurate shading delineating night, twilight, and daytime. It also (seemingly almost magically) shows real clouds, light emitted by cities and moonlight (which can be adjusted to show more or less city light)."

Nintendo on Wednesday became the first-ever company to receive a 0 out of 10 rating on Greenpeace's guide to green electronics, The Christian Science Monitor reports. Why the low score? The watchdog group says Nintendo provides no information on the materials used in manufacturing its consoles nor on its plans to cut hazardous chemicals. This means it "completely fails to show any environmental credentials." Also getting low marks are Philips, which scored 2 points, and Microsoft, which received 2.7. High-point earners were Sony Ericsson and Samsung—each receiving 7.7 points.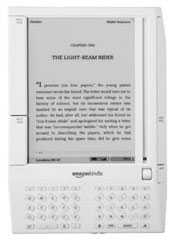 The Amazon Kindle has been taking a lot of heat from every direction since it debuted last week. But I'm a sucker for anything new and can't stop thinking about it. (If only I had an extra $400 to check it out.) In case you're in the market for an ebook, Gizmodo has posted a pretty comprehensive comparison of the Kindle and its predecessor, the Sony Reader. My verdict: Kindle's still on my Christmas wish list.

One of the best features of the Microsoft Zune is that it allows users to swap musics. Now, thanks to miShare, a $100 device that has dock connectors on both ends, you may soon be able to do the same with your iPod. Specifics about the device are not yet available, and it's not yet on sale. But you can get updates here, or see a video of how it works here.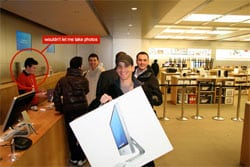 If I'm awake at 3 a.m., it's only to go to the bathroom or to pop another Tylenol PM. But Billy Chasen? You might catch him at the New York City's 24-Hour Apple store, where he's likely the only one who a.) isn't wearing pajamas and b.) doesn't smell like pot.

Just in time for the holiday crush of gift cards, Leveragecard.com this week launched a new service that lets users register all the gift cards they've received (to keep track of how much you have left on each card), buy new gift cards, swap cards with other users, and even manage loyalty reward programs, such as frequent-flyer or frequent-stay plans. Sounds useful, but knowing that 27 percent of the people who receive gift cards never even use them, it will be interesting to see how many people will take the time to register their cards.

Could this be the future of phone sex? This video is NSFW (unless you have headphones).
(via Queerclick – also NSFW)