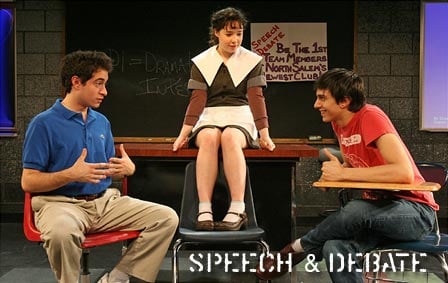 Please welcome Kevin Sessums, who adds to his recent reviews of Cyrano de Bergerac, Rock 'n' Roll, and Fuerzabruta with a look at two new productions.
Now that the stagehand strike on Broadway looks to be longer than at first anticipated I thought I'd let you know about four productions not affected by it. Two are comedies and two are dramas. Take your pick or pick all four. They are all to varying degrees worth a visit. Today the comedies. Tomorrow the dramas.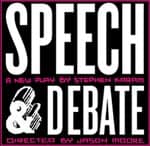 Each season there is a breakout hit off-Broadway that theatre mavens flock to. A few seasons ago it was Avenue Q at the Vineyard Theatre, which moved to Broadway and beat Wicked for the Tony for Best Musical in one of the biggest upsets in years. It was ingeniously directed by Jason Moore who has done another ingenious job this season mounting Speech & Debate as the inaugural production at the Roundabout's new Black Box Theatre downstairs at its Harold and Miriam Steinberg Center for Theatre at 111 West 46th Street. (Moore is currently busy putting together the Broadway musical version of Shrek.)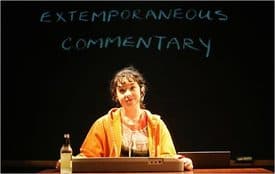 He has cast this play-with-music about cyberspace and sexual secrets and teenage angst — written by Brown graduate Stephen Karam — with his usual keen eye. Susan Blackwell in the dual roles of the teacher and a local reporter finds different ways to be kindhearted and yet officious in each role. The two male leads, Jason Fuchs and Gideon Glick, as the high school gay nerds, Solomon and Howie, can be cruelly awkward and caustically funny and eccentrically sexy all at the same time. But it is Sarah Steele who is the revelation of this production as Diwata, the female drama queen of the high school. Steele played Adam Sandler's daughter in James Brooks' film Spanglish a few years back, but now almost all grown up she is heartbreaking and hilarious and rightly full of bravado. It seemed at times watching the brilliant Steele as if she had boarded some sort of theatrical time machine and Charlotte Rae were playing one of her own charges in The Facts of Life. Steele is so good she keeps your head spinning trying to come up with such concepts to describe what she's accomplishing in this production, especially when, as a character from The Crucible, she really does board some sort of theatrical time machine in her character's fertile mind to perform in a musical she has written in which she meets up with Abe Lincoln.
Speech & Debate is more than utterly delightful. It is in its confounding simplicity a profound little gem of a play about the complexities of difference.
T T T (out of 4 possible T's)
Speech & Debate, Roundabout Underground, Black Box Theatre at the Harold and Miriam Steinberg Center for Theatre, 111 West 46th Street (between 6th Ave & Broadway), New York. Ticket information here.
***
DIE MOMMY DIE!
Charles Busch is back where he belongs — on a stage and bewigged and batting around, like only he can, the finely honed bon mots he has written with his own manicured hand.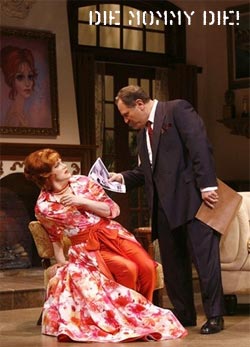 In his latest production, Die Mommie Die! at New World Stages, he plays Angela Arden, a washed-up singer circa 1967. On a sumptuous set that captures the Hollywood hyper-hacienda aesthetic, Busch and his talented co-stars gleefully mug their way through a murder mystery he has so expertly concocted to showcase his singular talents. Busch is more than a drag queen. He is an accomplished male actress — arch and chiding and chillingly funny. He presides over his plays like a latter-day Lynn Fontaine played by Alfred Lunt.
The supporting cast in this outing can match him laugh for laugh. The hillbilly maid is played by Kristine Nielsen. Ashley Morris, newly graduated from North Carolina School for the Arts, is making her New York debut as Angela's daughter Edith and she is a perky, sexy delight. Chris Hoch plays the well-hung gigolo, Tony Parker. (I think the play pre-dates Eva Longoria's marriage to the basketball star with the same name, but every time his name was mentioned in the play I kept wondering if the real Tony Parker — and hence, Eva — were both so blessed.) Angela's movie producer husband, Sol, who can't believe he's lost financing for the Billie Holiday story starring Elizabeth Taylor, is played by Bob Ari (Frank Langella's understudy in the recent Frost/Nixon) who lends a bit of his legit stage chops to the parodic proceedings.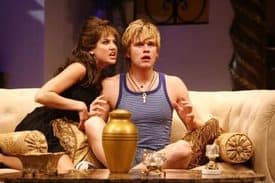 And for you Towleroad readers who have watched the YouTube clips posted here from the soap opera As The World Turns of the teenage gay character, Luke Snyder, there is Van Hansis. He plays Snyder on the soap, but nothing could prepare you soap fans for the outrageousness of his portrayal of Lance, Angela's gay son who has been cast as Ado Annie in his college production of Oklahoma.
For those of you disapppointed in the film version of Die Mommie Die! — and I count myself among you — don't let it deter you from this 90 minute intermissionless version. It's much better than the movie. And you should never miss the opportunity to experience Charles Busch onstage. Busch is in a league of his own.
T T 1/2 (out of 4 possible T's)
Die Mommie Die!, New World Stages, 340 W. 50th Street, New York. Ticket information here.
Next up: Things We Want and Peter and Jerry
Recent Reviews
On the Stage: Cyrano de Bergerac
On the Stage: Tom Stoppard's Rock 'n' Roll [tr]
On the Stage: Tom Stoppard's Rock 'n' Roll and Fuerzabruta [tr]
On the Stage: Black Watch [tr]