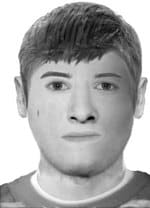 At the beginning of the month I posted about a gay bashing that had occurred south of Manchester, England in which a 39-year-old man was thrown to the grown, punched and kicked in the head while his attacker said he would kill him. The victim remains in the hospital.
According to This is Cheshire: "Police are hunting a white man, aged between 30 and 35, who is around 6ft 2ins tall and spoke with a Liverpool accent. He had dark brown hair, shaven in a number three grade and was wearing a grey and yellow striped top, light blue jeans and white trainers, which police say may have blood on them following the attack."
Police released an efit (electronic facial identification technology) portrait of the perpetrator in hopes that someone would recognize him.
Homophobic attack – Efit released [this is cheshire]