You may remember back in 2005 when Microsoft quietly withdrew its support of Washington state anti-discrimination HB 1515, and was accused of doing so because of pressure from right-wing religious leader Reverend Ken Hutcherson.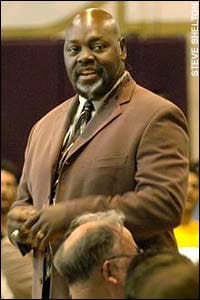 Seattle paper The Stranger explained the bill at the time: "House Bill 1515 would protect gays and lesbians from discrimination in employment, housing, banking, insurance, and other matters by adding sexual orientation to a state law which already bars discrimination on the basis of race, religion, national origin, gender, marital status, and mental or physical handicap."
The controversy prompted both a letter from CEO Steve Ballmer, which Towleroad first published, in which Ballmer denied any pressure from Hutcherson in its withdrawal of support for the bill. Said Ballmer at the time: "There have been several news stories that imply that Microsoft changed its position on an anti-discrimination bill, HB 1515, because of pressure from a conservative religious group. I want to make it clear that that is not the case."
The memo prompted a letter from gay and lesbian employees at Microsoft demanding reinstatement of support and an investigation into the company's dealings with Hutcherson. Hutcherson offered details of the meeting that clearly implicated the corporation, but in the end Hutcherson never got his way.
You may also remember Hutcherson from recent claims that he made trips to Latvia as a "special envoy" of the U.S. State Department where he met with anti-gay leaders. He said the trips were sanctioned by the White House and that he had a letter proving it. Hutcherson did make the trips, but as far as I know never produced evidence of the U.S. government's letter.
Now, he appears to be back for another round, threatening executives at a shareholders meeting last week that he would be their "worst nightmare" if the company continues to support gay rights.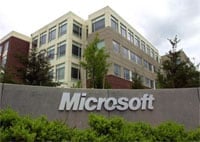 Hutcherson claims Microsoft is the first corporate target "in an escalation of the culture wars between evangelicals and corporate America" and is asking "millions of evangelical activists, as well as Orthodox Jewish and other allies, to buy up Microsoft shares and demand a return to traditional values."
Said Hutcherson to the UK's Telegraph: "There are 256 Fortune 500 companies alone pouring millions upon millions of dollars into pushing the homosexual agenda. I consider myself a warrior for Christ. Microsoft don't scare me. I got God with me. I told them that you need to work with me or we will put a firestorm on you like you have never seen in you life because I am your worst nightmare. I am a black man with a righteous cause with a whole host of powerful white people behind me…Microsoft stepped out of their four walls into my world so that gives me the right to step out of my world into their world. They tried to turn their policy into state policy, making their policy something I had to submit to. And my playbook [the bible] tells me you don't submit to sin…I don't care how big Microsoft is. They are nothing but a feather in the wind of God. America basically got started with a tea party and Goliath, if I'm not mistaken, got taken down by David, who believed in the same cause I believe in. I'm going to go after the new Goliath with one little rock called a share and I'm going to make them tremble before we get through."
Microsoft's general counsel Brad Smith reportedly told shareholders "it was up to [them] to continue their longstanding support of Microsoft's diversity policy, which includes an internal 'affinity employee group' called the Gay and Lesbian Employees At Microsoft (GLEAM)."
Hutcherson's past controversies have not proven that he has much power, but have shown that he can at least raise a big stink.
Pastor to take on Microsoft over gay rights [telegraph uk]
Notes from MSFT's annual shareholders meeting [seattle post-intelligencer]
Previously
Microsoft Secretly Withdraws Endorsement of Gay Rights Bill [tr]