NYT lead editorial on ENDA: "Winning a majority in the House required a painful decision by the bill's sponsors to jettison language extending the prohibition against employment discrimination to transgender individuals. As a result, some gay rights groups opposed the final bill. We sympathize with the groups' sense of injustice, but disagree heartily as to strategy. Transgender people should be protected from discrimination, and we hope they soon will be. It would have been regrettable, however, had the sponsors refused to compromise, and as a result, lost the chance to extend basic civil rights to the millions of Americans who would be covered by the current bill."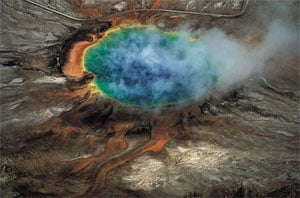 Magma surge the size of Los Angeles builds under Yellowstone: "The remains of the Yellowstone supervolcano in the US is huffing and puffing and rising by up to 7 centimetres a year, say researchers… But the researchers, led by Wu-Lung Chang of the University of Utah in the US, caution that the movement does not mean an explosion is imminent. Calderas – the massive craters that are left behind when a volcano collapses – all over the world go up and down over decades."

Father of Italy's gay movement, Massimo Consoli, dies at 61 after battle with cancer: "Consoli was a prolific writer, theorist, and self-trained historian with 40 books to his credit, mostly on homosexual subjects, as well as an indefatigable archivist of materials on homosexuality. He was also a tireless and talented lifelong organizer who pioneered the first modern Italian gay organizations."

Catholic church in Italy bans transgender parliamentarian Vladimir Luxuria from being a bridesmaid at her relative's wedding.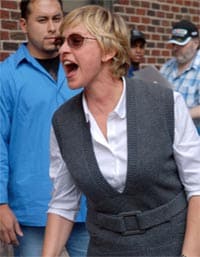 Page Six slams Ellen DeGeneres for being a scab: "The TV chat host crossed picket lines to tape her show Tuesday, the day after the union went on strike. 'There's a writers' strike going on, and here in Los Angeles, it's a huge story,' she told her studio audience, defending her strikebreaking. (The episode will air today.) 'I want to say I love my writers. I love them. In honor of them today, I'm not going to do a monologue. I support them and hope that they get everything they're asking for. And I hope it works out soon. In the meantime, people have traveled across the country. They've made plans. They're here. I want to do everything I can to make your trip enjoyable and give you a show.' It's a decision DeGeneres may come to regret."

Personal assistant to famous NYC realtor and punk rock pioneer Linda Stein arrested for her boss' murder: "Formal charges were pending against Natavia Lowery, 26, said police spokesman Paul Browne. She "made statements implicating herself" in the killing, he said."

Britney Spears buys a shiny new Mercedes to continue breaking the law in.

Gay and lesbian film festival Tim Hardaway still working on his gayhab: "I know a lot more now and I'm willing to talk to people and I want to make sure they understand that my words were terrible and I didn't mean them."

Homophobic thugs in England ambush motorist using stones and a catapult! "He said a group used a catapult to fire stones at him and his car before hurling homo-phobic insults at him too. Police say the man immediately phoned for help and officers from the Tandridge neighbourhood team arrived within minutes to sweep the area in search of the suspects. Police believe they were men, but because they were hiding officers were unable to issue a description or confirm an exact number of suspects."

Navy doctor guilty on all counts in case involving secretly taping midshipmen having sex…