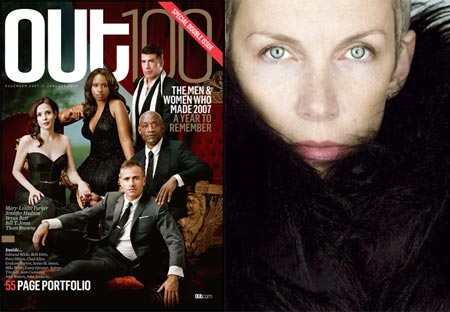 OUT magazine today revealed this year's cover for its annual "Out 100" issue as well as the news that the magazine will honor Annie Lennox tonight as "Humanitarian of the Year" at its party at NYC downtown hotspot Cipriani on Wall Street.
I asked OUT's editor Aaron Hicklin about the cover choices. He told me: "We singled out three gay men — actor Bryan Batt, who plays a gay ad executive in Mad Men; fashion designer Thom Browne, and choreographer and dancer Bill T. Jones — who, between them, reflect a variety of ages and disciplines. Mary-Louise Parker and Jennifer Hudson, the two women who join the men on the cover, are honored as Entertainer and Breakthrough Artist of the Year respectively. Both connect powerfully with gay audiences, added to which Parker has taken roles in many gay-interest movies, from Longtime Companion to Angels In America. That Jennifer Hudson is following her Oscar-winning role in Dreamgirls with a role in Sex and the City is icing on the cake for her many gay fans."
Of the Lennox honors, Hicklin said: "She was chosen for using her international profile to powerfully advocate for human rights causes, ranging from Amnesty International to her recent work an an ambassador for Nelson Mandela's 46664 campaign which seeks education and health care for those effected by the HIV virus. Her latest single, "Sing" is dedicated to women with HIV/AIDS, and is a hugely ambitious collaboration between Annie and 23 other female artists, including Madonna, Melissa Etheridge, and Joss Stone. We wanted to pay tribute to that and all the other work she has done over the years to highlight some of the world's most pressing concerns.
The cover, as well as the rest of the OUT 100 subjects, were shot by Francois Rousseau.
Previously
Making the Out 100 [tr]