This Saturday, Philadelphia Mayor John Street will officiate at a commitment ceremony for his deputy secretary of external affairs, Micah Mahjoubian (below, left), and Mahjoubian's partner John Bunch.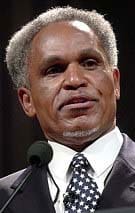 The ceremony is making headlines because Street was "once regarded as Public Enemy No. 1 of the gay community" according to the Philadelphia Inquirer.
The paper reports: "With 125 guests expected, it will resemble in every way a traditional wedding but will have no legal standing, since Pennsylvania prohibits gay marriage. Mahjoubian, 33, and Ryan Bunch, 32, will wear matching black tuxedos with orange vests. There will be a 10-person wedding party; each groom's best man happens to be a woman. Mahjoubian and Bunch will say their vows, exchange wedding rings, then leave for a reception at the University of Pennsylvania Museum of Archaeology and Anthropology…For Mahjoubian and Bunch, it's as much a political statement as a show of their love before family and friends. For Street, who has performed fewer than 10 weddings as mayor, it's anything but. 'Micah is my friend. He has been in my campaign and has been in my administration for eight years,' Street said. Currently, Mahjoubian is his deputy secretary of external affairs. 'I've come to respect him as a person, and if this is something he would like for me to do, then I'd like to do it for him.'"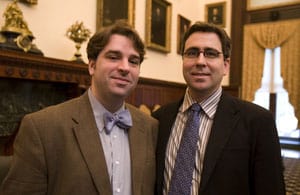 Still, while Street's presence certainly makes a statement and his evolution on gay and lesbian issues during his term is praised by many, according to the Inquirer, the Mayor still wanted to make very clear during an interview what the ceremony isn't:
"It's not marriage. It's not real marriage. They can't be married…It's not a religious ceremony. I mean, it's not really marriage."
And that's a statement of assurance from the Seventh-Day Adventist, not of regret.
Street's Gay About Face [philadelphia inquirer]