UNAIDS, the agency of the United Nations which tracks HIV and AIDS worldwide, will issue a report today cutting "the number of people it believes are infected worldwide, to 33.2 million from the 39.5 million it estimated late last year," according to the New York Times: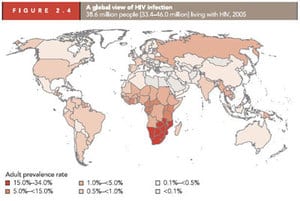 "The statistical changes reflect more accurate surveys, particularly in India and some populous African countries. Some epidemiologists have criticized for years the way estimates were made, and new surveys of thousands of households in several countries have borne them out…Despite the revised estimates, the epidemic remains one of the great scourges of mankind. This week's analysis predicts that 2.1 million people died of AIDS in the last year, and 2.5 million were newly infected — or about 6,800 every day."
As medicine improves, the number of people living with HIV is growing, although new infections are dropping and probably peaked around the turn of the millenium, experts say.
Said Daniel Halperin, an expert on H.I.V. infection rates at the Harvard School of Public Health: "…this doesn't mean the epidemic is going away, everything is fine and now forget about it — not at all. There are still about 10 countries in southern Africa that are real nightmares."