Last Friday, Florida Rep. Bob Allen, who was sentenced to six months supervised probation and ordered to pay a $250 fine related to a misdemeanor conviction of solicitation of prostitution, resigned from his seat in the Florida House.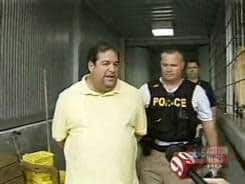 According to the Orlando Sentinel, "Allen's letter to House Speaker Mario Rubio said he would resign on Feb. 15, 2008, or earlier if a replacement election can be held. In his letter, Allen citied 'the requirements of my family and my private life, and in order to seek justice in the upcoming appeal process' as reasons for his decision."
The chairman of the Florida GOP expressed pleasure at Allen's resignation, however, the taxpayers will ultimately foot the bill. Today the Sentinel reported that it will cost Brevard and Orange Counties at least $200,000 each to hold special elections.
That's one expensive blowjob.
Bob Allen resigns in wake of conviction [orlando sentinel]
Firing Rep. Allen's seat could cost Orange, Brevard $200,000 each [orlando sentinel]