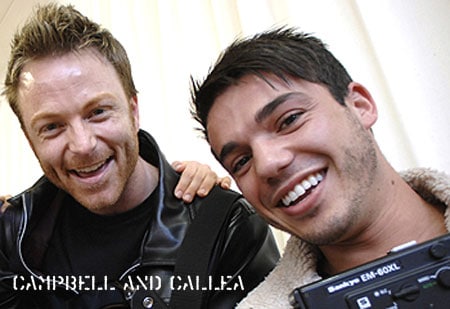 Australian actor Tim Campbell, who formerly starred in the long-running soap opera Home and Away, has come out of the closet following reports that he is dating newly-single Australian Idol contestant Anthony Callea. The two have been spotted together around Melbourne. Campbell denies he and Callea are involved.
Said Campbell to The Advertiser: "(Anthony and I) are mates – he's had his rough trot, I'm going through a rough trot and I'm really concerned for my (ex) partner. Part of me will probably always love him because 11 years is a lot to share with each other."
Callea and Campbell performed together in the musical Rent.
Campbell told The Advertiser he doesn't want the announcement to affect his career: "There's nothing in the way of being ashamed about this (but) the label thing worries me a bit because I don't want my work to be affected. If every time I'm written about now it's as 'the gay actor' it would bore the hell out of me. Coming out at 20 changed me a bit, but at 32, I'm pretty comfortable with who I am and what I'm doing."
Actor Tim Campbell opens up about his sexuality [the advertiser]
Crooner Anthony Callea speaks about being single [herald sun]
(via defamer)
Recently
Will Young and Anthony Callea's New Singles: Themselves [tr]